Immigrant Stories
The following excerpts from genealogical records and similar sources record conditions that were probably typical of Monroe County and Miltonsburg immigrants. The italicized comments are additions by the website authors.
Excerpts and Paraphrases from histories of the Pfalzgraph Family
Prepared by Kenneth Ackerman, 5 McGuffey Lane, Athens, Ohio 45701; 1970.
Published in the Monroe County Beacon, July 16, 1964 and by Clermont C. Pfalzgraph, Grandson of George Michael Jr. and Elizabeth Diehl Pfalzgraph
George Pfalzgraph Jr. was born in 1809 in the family home, which was a stone house approximately two and a half miles from the Rhine River. George Michael Sr's mother was buried on Easter Sunday 1832 which was the same day that his family joined with other families and departed for LeHarve, France as the first step of their emigration to the United States. Included in the party were George Michael Pfalzgraph Sr., a cousin, and a maiden, Elizabeth Diehl, who later became the wife of Michael Jr. In another account (see below) it was noted that Elizabeth's father was angry about her emigrating to the United States.
Based on oral histories and our interpretation of scant records, it was not unusual for the early settlers of Miltonsburg and Monroe County villages to leave substantial (stone) homes in Germany and France and accept the crude dwellings and conditions of the American frontier as their new home. Making the journey with other family members and close family associates such as Elizabeth Diehl as well as other families from the same general area was also a common pattern. Once a family settled in United States, other family members and acquaintances naturally joined them at least for a time in this country. This pattern helps to explain why we found that almost everyone who lived in Miltonsburg in the nineteenth century seemed to be related to someone else who lived in the village.
The Pfalzgraph party landed in Baltimore, Maryland in July of 1832. They then took tobacco wagons returning to Barnesville, Ohio.
Using returning tobacco wagons to get to Monroe County helps confirm an oral history explanation that Baltimore Road in Miltonsburg was so named because it was the road taken by the tobacco wagons as they left the village headed for the tobacco warehouses and auctions in Baltimore.
From Barnesville, George Michael Sr. went to Monroe County and paid $1.25 per acre for 40 acres of government land near Woodsfield and put it in Michael Jr's name as he was the only child. The cousin headed south upon reaching Barnesville and was never heard from again. George Michael Sr. was a stonecutter by trade. He never remarried; could not speak English and died July 5, 1852. George Michael Jr., who was 23 years old when he arrived, was a teamster before coming to the United States. He died January 3, 1867.
Their first work on the 40 acres was to dig a spring (well?) which still provides water. They built a (log?) house, which had dirt floors, in three days. No glass or metal of any kind was used in the construction of the house. A hole was cut for a window. When it was cold something was hung over the opening. Boards in the door were split from a tree and wooden hinges and a wooden lock was installed. The roof of the cabin was held in place by weight poles.
They made all their furniture. The chairs had three legs like milk stools except a little higher. The table was made from a big block of wood about eight inches thick which was taken from a tree split in half. Holes were bored in it and posts were driven into them for legs. They cooked in a fireplace and slept on the floor.
A year after they established their home in United States, the grandmother (Elizabeth Diehl) wrote and told her father that they had two hogs to butcher, 40 bushel of wheat and a good supply of potatoes. She also told him that they had to burn wood to get rid of it. He could not believe this but seven years later her father's family (the Diehls) emigrated to the United States.
This account is particularly interesting in that, as noted above, Elizabeth Diehl's father was angry with her for leaving their homeland with the Pfalzgraph family to emigrate to America.
Excerpts and Paraphrases from histories of the Egger Families and their Descendants of Aarwangen, Canton Bern, Switzerland and Monroe County, Ohio
Compiled by Frederick Reef Egger, 2003
The Spirit of Democracy, Thursday, February 10, 1944
A copy of the Spirit of Democracy of February 10, 1885, in which the following letter was printed was kept in the home of Mr. and Mrs. Henry Egger of Lewisville, Monroe County, Ohio, Route 3, who were readers of the Spirit up to the time of their deaths. The Spirit is still coming to the same home and this copy is now 1944 in possession of Mrs. Lewis Hinderlong, Lewisville Rt. 2.
From an Old Pioneer
Miltonsburg, Ohio, January 1885
To the Editor Spirit of Democracy: As you requested the old pioneer men who came to Monroe County, fifty years ago and over, to write out their experience as pioneers, I will attempt to give your readers a short sketch of my early life in old Monroe.
It was in the year of 1829 that I, with my parents, three brothers and one sister bid adieu to our native state, New Jersey. I was then some past seven years old. Our journey was made in an old-fashioned Switzer one-horse wagon, and from this you made conclude that travel then was not as rapid as that at the present time (1885). By the time we reached the state of Ohio we had been travelling four weeks. Between Moundsville and Powhatan on the West Virginia side our wagon stuck in the mud and my father kept guard over the wagon for a whole night. The next morning we received assistance of a yoke of oxen and finally arrived in Malaga township where we made our home for several months with my uncle, John Egger, who resided 1 1/4 miles south of the present site of Miltonsburg, (which was then still a wilderness) on the farm now owned by F.J. Snyder. I remember when my uncle said to my father: "Jacob, we will now have a store for Mr. Pierson of Woodsfield intends to lay out a town and build a store room." It was done about the year 1836.
After living here some time, my father bought at the Marietta land office 80 acres of land for $100.00. At that time my father was fifty-one years old. We then built a log cabin 14×18 ft. As my oldest brother was then 12 years old, and not knowing anything about labour, my father was compelled to do all the work himself. He cleared the land and fenced it in order to plant it in potatoes and maize, and as we had no team then, my father had to carry all the rails for fencing the land on his shoulders. As we had no more money to pay for plowing the land, my father worked for the neighbors and they in return plowed it. For our daily bread, my father in the cold winter days, thrashed wheat for the neighbors and received one tenth of the amount for his labor. The straw which we fed our cow was obtained in the same manner.
The first or second winter, I don't remember which after arriving a deep snow fell, I think the deepest that I have seen. Now, what was to be done? We must have the necessities of life, and also the cow must have her straw. Father went to work and cleared a path through the snow over hill and dale to our neighbor John Gerber, a distance of one mile, from whence he carried the straw, and other things for our want.
In course of time we boys grew stronger and assisted father in his hard labor.
My mother was a busy and saving woman: the winters she spent in spinning, knitting and housework. She spun and knitted many a night until 10 or 11 o'clock, for at that time people made their own clothes. Summer clothes were made of flax and winter clothes of linsey, the caps for men were knitted of woven yarn. At that time there were few men who wore woollen or silk hats and few ladies who wore silk dresses.
If a girl wore a dress made out of eight yards of calico she was thought to be dressed like a lady.
As the Germans settled here in course of time, there were many frolics amoung them, grubbing, rail splitting, log rolling, raising houses, stables, tobacco houses and corn husking which caused quite an amount of amusement. The people were chosen into two parties and a rail placed in the middle of the pile to be husked. Then either side wanted to beat the other, and many a "Hurrah" boys, let us beat them was heard.
In the year of 1849 I married the oldest daughter of the second wife of Frederick Bowmann. She was born and raised one-fourth of a mile from out house. There were born onto us, eight sons and five daughters, who are still living, and still in old Monroe, except one son who lives in Wheeling, W.Va., and one daughter who lives in Moundsville, W. Va.
My oldest brother died in 1859, father in 1863 and mother in 1869. My parents came to American from Switzerland in the year 1819. In the summer of 1881, I, with my brother Jacob, visited in Montgomery county, New Jersey, the place of our nativity. We met but three or four persons who could remember anything about us ever living there. We visited the church yard where our youngest brother, Henry, sleeps under the sod until Judgment Day.
We could not find his grave as it is not marked. On Sunday we went to the same church in which we used to attend Sunday School while living there. The county there is very nice and attractive. Our journey thither was via Washington, Baltimore and Philadelphia and returning through Pittsburgh.
I am living 1 1/2 miles southwest of Miltonsburg on the same farm which my father bought on our arrival here. I own 150 acres of land. My two brothers [Jacob and Samuel Egger] and sister [Mrs. Elizabeth Segesser, who had one daughter, Mrs. Eliza Hinderlong who died in 1931] live on farms, and all within 1 1/2 miles of mine. I was 63 years old this month. This is the first time I ever wrote anything for the press.
Yours,
JOHN EGGER
In reading the above story of pioneer life it is necessary to keep in mind that it was written in 1885, nearly sixty years before it was reprinted in 1944. By way of explanation in the relationships of living descendants of Jacob Egger, in 1944 the Spirit editor added the following genealogical information provided by Elmer H. Egger, of Lewisville:
The Jacob Egger and wife mentioned in this letter, and who came from Switzerland in 1819 were the grandparents of L.P. Egger, Mrs. Anna B. Matz, Mrs. Henry Neuhart and Samuel Egger of Woodsfield. Children of Samuel Egger are Jacob Egger, aged 92 of Hornick, Iowa; and Rev. Samuel Egger, aged 88, of Van Wert, Ohio.
Living grandchildren are as follows: children of John Egger who wrote the letter are Jacob Egger, living in Kansas, and who visited here last summer and Mrs. Tillie Stenzel of Woodsfield.
Daughters of Jacob Egger are Misses Lucetta and Matilda Egger of Lewisville and Mrs. Barbara Willard in Washington state.
Excerpts and Paraphrases from the history of Nicolas Gambs, who owned Lot 43 and Lot 44c 1870-1880
Compiled by his Great Granddaughter, Maxine Gambs McCaw
The Descendants of Nicholas Gambs 1807-1886, Des Moines, Iowa, 1981; Copyright Maxine Gambs McCaw
Excerpts from a 2000 edition of Maxine Gambs McCaw's book provide insights into the immigration of Nicolas Gambs and his family as well as early connections to members of the Spangler (Lot 5 and Lot 16) and Jean Jacques Dörr (Lot 15) families who also settled in Miltonsburg. The immigration story of Nicolas Gambs is of particular interest to my sister and me because our family later owned Lot 43 and Lot 44 and shared the same house although our ownership was separated by about 55 years.
At least two families from Alsace-Lorraine who sailed together to the United States before 1833, settled in or near Miltonsburg, Ohio. There were the Jean Jacque (John Jacob) Dörr and Spangler families. John Jacob Dörr, son of Jean Theodore Dörr and Jeanne Sessler, originally from St. Ingebert, France, was a teacher in Rimling … .
Apparently the name of the father of the Spangler Family is not known. The tradition is that the family came from Alsace-Lorraine. The Spangler children included Michael, Dave, John, Eva, Mary, Magdalena, and Barbara. We know that Michael was born in France and can assume that the other children were also.
The ocean voyage of these two families is reported to have taken 72 days "as the wind would sail them." Another report says "it took about six months." While on their way, a member of these families was ill, died on the ocean and was buried at sea. Also on the way, they made a promise to God that they would build a church if they landed safely. The church, a finished log building 53 by 38 feet, was built by Joseph Dörr and dedicated to St. Joseph. Bishop Purcell blessed the church at Miltonsburg in the year 1836. "The Dörr family formed a most effective and harmonious choir and Joseph Dörr chanted forth in a voice with rich melody." This was the first Catholic Church in the area and was located where the present city cemetery is located.
The City Cemetery mentioned by Ms McCaw is also associated with the Evangelical and Reformed Church located on Lot 39, Lot 40 and Lot 41. Oral tradition locates both a Evangelical Reformed and a Catholic Church at this cemetery site in the early years of Miltonsburg. This would seem to be a strange but possible arrangement. Some answers may lie in the names carved on the very earliest tombstones. Were the family names know to be Catholic or Protestant? Unfortunately most of these stones are no longer readable.
We wonder if the Spangler family was also from Rimling, France (the Gambs family's home town) or if the two families met on the boat. Anyway, they settled in the same place in Ohio and Mary Angelical Dörr and Michael Spangler were married in Miltonsburg.
Now to the Gambs' connection: John Gambs, born in Rimling, France March 10, 1820, married Catherine Dörr (born 1818), daughter of John Jacques Dörr (John Jacob Dörr), probably also in Miltonsburg where they were as early as December of 1847 when, according to church records, their daughter, Ann Marie Gambs was born.
John Jacob Dörr owned Lot 15 in Miltonsburg from about 1846 until 1855.
John B. Oblinger's record of his first twenty years in the United States
John B. Oblinger, a long-time merchant and a dedicated member of the Catholic Church in Miltonsburg wrote the following letter to his relatives, Christina and Christopher Suss of Kleineich, (Germany?) some twenty years after his immigration to this country. It provides a good picture of the lives of immigrants who lost touch with their loved ones at home and also some hint of the faith so typical of Catholic immigrants from the valley of the Rhine.
This leter is dated Miltonsburg, February 3, 1851.
I hope this letter will find you as well as we are. Already 20 years have passed since we last saw each other nor have we had the pleasure of any correspondence during that time. We have heard nothing from one another until my dear friend Louis Meyer after his recent return from the fatherland wrote me that you are all well and getting along nicely in this world, which we are pleased to know. He wrote me also that your eldest daughter was married at the time he visited you. I wish her happiness and blessings. When we think back dear relatives our life in this world it is like smoke in the wind, and when I look back to the old home where I was born and spent the happiest days of my youth where neither trouble nor grief disturbed me, it seems as though it was only yesterday.
Mr. L. Meyer also wrote me that you complained of my neglect in not writing to you; but I wrote twice after we landed safely but received no answer. Also Mr. Meyer wrote me that Christina would write me soon; I have received up to this time no letter from her. Yet you can imagine with what pleasure I would read a letter written by any one of you. We have not heard the least news of any kind from our relatives since we arrived in this strange country. The only thing we have heard was through Mr. Meyers' letter to me last fall. I do not know whether or not my Aunts and Uncles are still living in Harburg, Strasburg, Kolmar, Momarting? Sisters Margaret, Catherine, brother Martin, also Joseph Friang? are relatives. Write everything carefully as to how things are going with you.
Now I will relate some events which occurred to us from the time we left the old fatherland to this day. We arrived safely at Havre de Grace, France, then after an ocean voyage of 74 days we landed safely in Philadelphia in June in good spirits and in good health. We remained in Philadelphia until the following September. We then went into the country about 150 miles from Philadelphia where we remained until April 1833 still in the State of Pennsylvania and entirely among English speaking people. We were dissatisfied there and went to Pittsburg and then into the State of Ohio where we bought land and where we (those who are left of our family)are still living. Now we all lived together until 1836. Then brother Adolph married an American. In the year 1839 I married a German (compatriot) from Oldenburg. So far everything went well. Brother Conrad married a German and went to New Orleans. Sister Maria married a German in 1842 and Brother Louis married an American. In October 1844 I began business as a merchant and I am now engaged in large business.
In 1845 our dear Lord permitted for the first time sorrow to enter our home. On August 13th Joseph Friang died after a sickness of 8 days. In March 1850 Philip Yunkes, who married my sister Maria, wished to go to California and took brother Adolph with him. That is the gold country where they dig gold out of the ground. No doubt you have heard of it. That was a long and dangerous journey. Many have lost their lives on account of the glittering gold. Yes, sad is it for you to hear that both paid Nature's debt on June 24th, 1850. Adolph left his wife and 8 children and Philip his wife and 2 children. It is a sorrowful fate, but it was our dear Lord's will, at least He permitted it. Our sorrow does not end here. On Dec. 8th 1850 Conrad died in New Orleans of cholera, left his wife, no children as far as I know. There remains now Mother, myself, sister Maria, brother Louis. We live all together and are well as long as it is God's will. I have 6 children, 4 girls and 2 boys. I live in the town of Miltonsburg, about as large as Malateri? was when we left home. There are 4 stores here. I alone deal in tobacco, which I ship to Baltimore and reship from there, a part to Germany, part to England, a part to France and part to Russia…. [There follows a list of prices and wages.]
Dear relatives, surely a visit to the old fatherland where I could grasp the hand and embrace my dear sisters and relations again and kiss my dear sisters would be my only wish. But I cannot go alone and my family is too large to take along. Therefore, I do not know that we will meet again until beyond this world where we will have a friendly welcome where there is neither sorrow nor grief and no parting but sentiments of love and joyful hearts, which I hope may be our portion. Also take with you my best wishes for your success. I remain faithfully yours, etc.
John B. Oblinger
God bless you and all of us
Landefeld Family Immigration from Obergude, Germany to Miltonsburg, Ohio c1866-c1884
This information was taken from Landefeld family records and oral history, and various websites.
Between 1866 and c1884 Adam and Katharina Landefeld and six of their eight children left Obergude, Germany and came to Monroe County, Ohio. The two oldest children, Martha (c1841- ?), and Michael (1843-1901), remained in Germany. Family information about their migration to the United States is sketchy; however, most of the brothers and sisters commented at one time or another that the main reason for leaving Germany was their objection to compulsory military service. While this was no doubt a major factor, the people living in this part of Europe in the mid-1800s were being subjected to laws and policies that were increasingly remote from their own interests and understandings. It is likely that both political and religious, as well as social, pressures and frustrations led to their decisions.
Although it seems a bit unusual that the first family member to emigrate to the United States would be a 17-year-old girl, ship records show that Dorothea Landefeld (1848-1929), the fourth child, left Bremen, Germany on the steam-sail ship Ericsson and arrived in United States on May 3, 1866. There is no record of how much Dorothea paid for her passage, but a few years earlier the Ericcson fares were $80, $50, and $30 for the three passenger classes.
Wilhelm Landefeld (1845-1911), the third child, probably left Obergude sometime between 1866 and 1870; however, no confirming records have been found. Dorothea Deist, who married Wilhelm c1870 came to the United States on the sail-steam ship Hermann, which arrived at Castle Garden, New York City, on September 16, 1869.
There is a reliable record from ship lists showing that the parents, Adam (1822-1884) and Katharina (1824-1896) Landefeld, disembarked from the ship Donau at Castle Garden on July 8, 1882. From 1855 until 1890, Castle Garden was an official USA immigration center. Located in New York City's Battery Park, it is known today as Castle Clinton National Monument. This 1866 New York Times article provides a rather Victorian account of a young woman's arrival at Castle Garden that year.
The passenger list for the Ship Strassburg includes Johann Landefeld (1863-1937) as a passenger who arrived in New York on August 26, 1881. The 1920 and 1930 census records both state that John Landefeld immigrated to the United States in 1881.
The passenger list for the ship Elbe includes (August?) Hermann Landefeld (1863-1952), an eighteen-year-old passenger who arrived in New York on November 6, 1882. It is likely that this was August Landefeld, who would have been eighteen years old at this time. Almost certainly all of the German immigrants had two or more given names; however, other than for Michael George, who remained in Germany, we do not have second names for the Landefeld immigrants. In the 1900 census August is listed as having been in the United States eighteen years.
No records have been found for the date of immigration for George Landefeld (1867-1959); however, family oral history suggests that George and August may have come together—possibly in 1882. Of course if this were true, George should have been among the passengers listed for the Ship Elbe so his date of arrival remains unknown.
Julianna Landefeld (1857-1892) married Jacob Freitag in Obergude and they had at least one child, August (1880-1966), before coming to United States. They left Bremen on the General Werder and arrived in New York City on November 17, 1884. The passenger list records Jacob's name as Johann; however, there is no question that he was known to the Landefeld family as Jacob.
Life in Obergude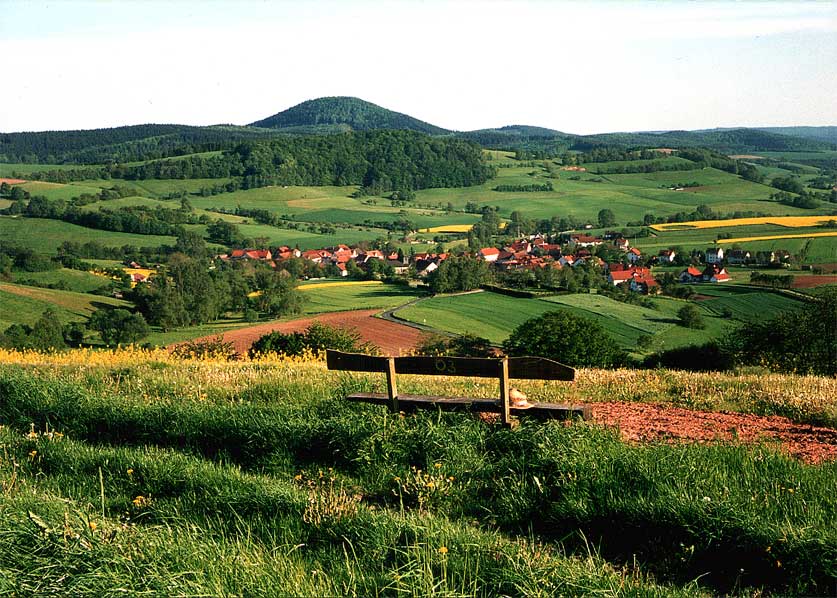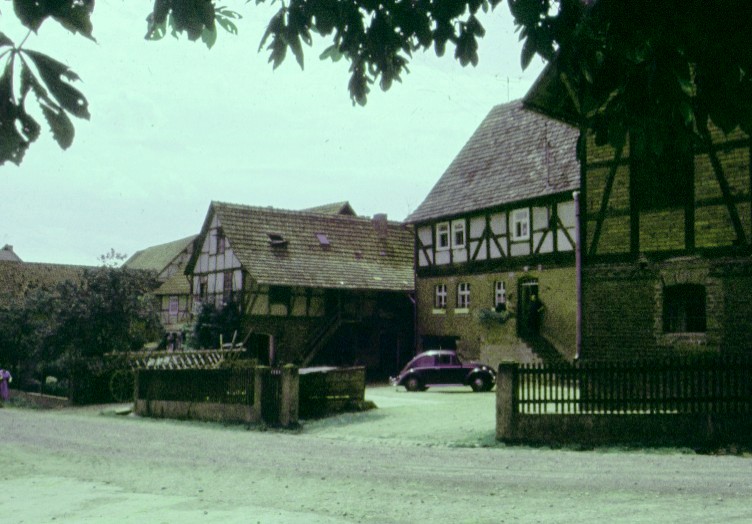 George Landefeld recounted that his boyhood in Obergude was spent largely in school. (He was probably about 15 when he came to the United States.) He attended Obergude's one-room school six days of every week the entire year; there were no summer vacations. The only exceptions to this were holidays or if he were needed to help on the farm. Even when he was needed to work a permit had to be signed by his father. On Sunday there was no school but he went to Sunday School every Sunday morning and worship services in the afternoon.
Although George's family made a living by farming, their house was in Obergude, a village near the Fulda River in the state of Hesse. Their farm consisted of about 30 acres but it was not all one piece of land as is normal in the United States. It was divided into small portions scattered in the area surrounding the village—some of which were less than an acre. Each portion was marked so everyone knew his own land. The main crops were potatoes, flax, oats, wheat, and barley. All farming was done with oxen or cows. Other animals were milk cattle and sheep. The sheep of all the village farmers had identifying marks and the owners hired a shepherd to care for them. He moved them daily from one person's farm to the next and at night he enclosed them with temporary fence.
The Landefeld house was constructed of a half-timber frame with infill of clay bricks and had a clay floor. The cook stove was a kind of an "indoor barbeque" also made of clay tile. The furniture was crude and all homemade. The only method of lighting was the candle. The stables for farm animals were on the first floor, the storage for grain was in the attic or third floor, and the family inhabited the second floor. All clothing was made by hand, the cloth being woven from flax. An enormous loom filling half of an ordinary room was used to weave the cloth. The only articles of clothing that were bought were shoes and hats.
The family food consisted of potatoes, sour milk, and garden vegetables during the week. On Sunday—and only Sunday—meat was served. Rye bread, which was part of the weekly diet, was sometimes baked three weeks ahead of time in outdoor ovens. A very hard crust prevented the interior of the bread from drying out. This method of making bread was still being used in 1960 when Paul Young and his wife Barbara visited Obergude. Wood used to fuel the oven was limited. Each family received a given yearly ration from the state, which owned all the timber and controlled the supply. However, the family could supplement its supply by gathering twigs. A coffee-like drink was prepared by grinding together a mixture of wheat and rye.
Obergude was about eight kilometers from Rothenburg-on-the-Fulda, which was the nearest major town serving essentially the same role that Woodsfield served for Miltonsburg. Other villages in the area include Landefeld, Niedergude, Spangneburg, Esrode, and Bebra. According to the minister of the Obergude Church, in the 1500s families were encouraged to take family names and it is very likely that the Landefeld family took their name from the village of Landefeld. Also at this time names that translate into English as Shoemaker, Carpenter, Tailor, and Brewer were taken from the occupation of the major family member. The 1000-year anniversary of Obergude was celebrated June 18 and 19, 1960.
Early Life in Monroe County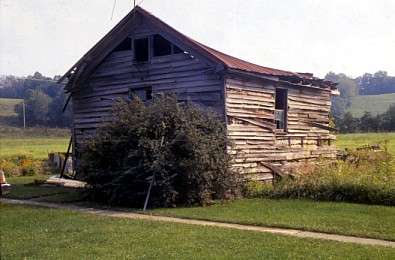 After arriving in Monroe County (c1866/7), Wilhelm Landefeld married Dorothea Deist in c1870 and by the mid 1870s they had four children: Annie (1871-), Louis Michael (1872-1959), Herman John (1873-1959), and John William (1878-1966). About the same time he purchased about 67-and-a-half acres in the northeast quarter of Section 23 in Malaga Township (on Walter Ridge). It is not clear whether Wilhelm built or purchased the house as part of the property; the building still existed until about 1985 (in the condition seen in the picture).
At some point, probably in the 1870s, Wilhelm purchased and moved to a 74-and-a-half acre farm in the southeast quarter of Section 29. One of the most memorable characteristics of this farmstead was the mailbox, which was cranked from the house in the valley to a large tree on the ridge (County Road 2) by an "endless wire" operated with two pulleys.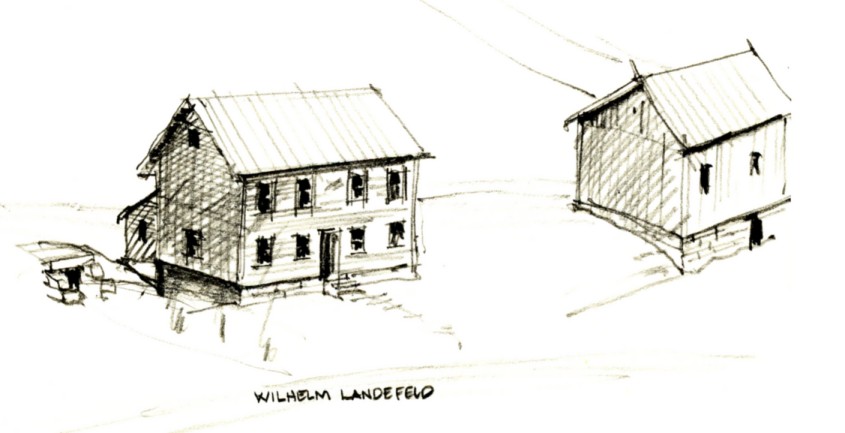 Apparently Dorothea Landefeld married Charles Peters (1843-? ) shortly after arriving in Monroe County in 1866. Charles' parents, Jacob and Elizabeth Peters, and four of his older siblings immigrated to the USA beginning as early as c1841. Charles and his father Jacob were listed in the 1850 census and an 1869 Atlas shows J. Peters as the owner of an 86-acre farm in section 22 of Malaga Township. The 1870 census indicates that Dorothea and Charles had a two-year-old son (Charles Jr.). Almost certainly they were living with his parents on a farm in the southeast Quarter of Section 22.
Records show that Dorothea married George Feiock (1831-1908) in 1878—the assumption being that Charles Peters died prior to this time. (George Feiock came to the United States c1833.) In the 1880 census the George and Dorothea Feiock homestead (probably in the southeast quarter of Section 23) consisted of George's four children: Clara, Charles, Edward, and Louise; Dorothea's two children, Charles and John Peters; and George and Dorothea's daughter, Adolphine. (In 1880, George's older three children, George Jr., Mary, and Lucetta were living in Miltonsburg on Lot 30). The 1890 census records were destroyed by fire; however, in the 1900 census George and Dorothea are living on Lot 45 in Miltonsburg with Dorothea's stepson, Edward, and George and Dorothea's son Charles (born 1888), their daughter Rose, and her husband John Sutton, and Rose and John's daughter Rhea (born 1900).
George Feiock died in 1908. In the 1910 census Dorothea is listed as the head of household at 321 (?) Xenia Avenue, Dayton, Ohio. Members of the household include Dorothea's son Charles; her brother, George Landefeld; and George's daughter, Hulda (born 1907). Tax records indicate that, in 1910, Dorothea also owned Lot 46 in Miltonsburg. The 1920 census lists Dorothea living in the household of her brother, George, and his daughter, Hulda, at 4443 North Guernsey Street, Bellaire, Ohio. At this time her brother George was working across the river in Benwood, West Virginia in a tube mill in which John Sutton was a foreman. John and Rose Feiock Sutton lived next door at 4435 North Guernsey Street, Bellaire.
Dorothea died in 1929 in Miltonsburg where she was living in a house on Lot 20 owned by her son Charles Feiock and built by her brother George Landefeld, who lived next door on Lot 19.
Adam and Katharina Landefeld, the parents, arrived in New York City on July 8, 1882, and shortly thereafter came to Wilhelm's farm on Walter Ridge. About this time Wilhelm had moved to the valley farm in Section 29. Adam and Katharina lived in this house until their deaths in 1884 and 1896, respectively. This house remained in the Landefeld family when Wilhelm's son Louis purchased the farm. Louis' son, Clyde (1912-1992) and daughter Edna (1906-1997) lived here until their deaths.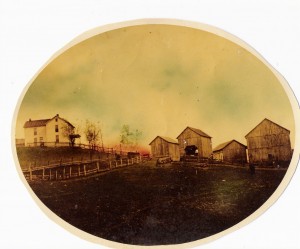 When John Landefeld came to the United States in 1881, he settled on the farm on Walter Ridge in Section 23 adjacent to Wilhelm's first farm where his parents, Adam and Katharina, were living. Sometime later Herman Landefeld, Wilhelm's son, purchased the farm on the other side of John's farm.
John Landefeld married Mary Walters, the sister of Barbara Walters (Ludwig) who married John's twin brother, August. John and Mary's children were Herman (1881-1951), Elmer F. (1887-1952), Herbert (1894- 1975), Roy (1896-1989), Earl, (1899-1972), and Freda (1902-1987).
August Landefeld married Maria Neuhart (1859-?) sometime prior to 1887 and they had one son, William Otto Landefeld (1887-1974). About 1893 August purchased a farm in the southeast quarter of Section 22 that probably had been owned by his sister Dorothea and her second husband, George Feiock. On July 3, 1890, August married Barbara Walters Ludwig (1860-1941). They had six children: Alfred John (1891-1926), Charles J. (1892-1924), Homer George (1898-1959), Wilbert Ralph (1903-1906), and Ola Marie (1904-1994).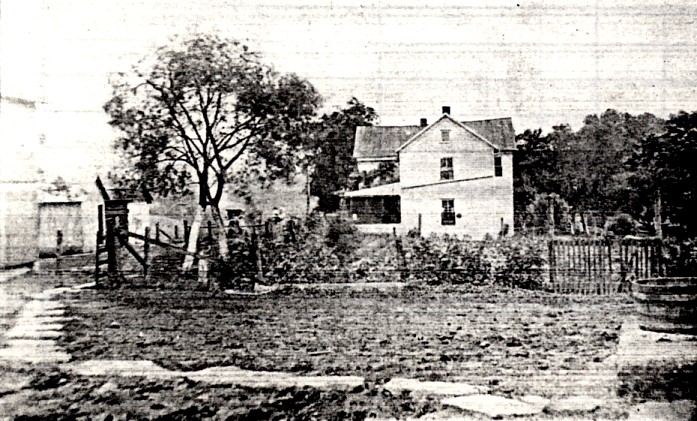 About 1925 August purchased a farm just south of Miltonsburg where he lived until his death in 1952.
George Landefeld arrived in New York City about 1882 and was possibly accompanied by his brother August. He took the Baltimore and Ohio train to Wheeling/Bellaire where he transferred to the narrow gauge Ohio River and Western Railroad which at the time terminated in Woodsfield. From Woodsfield he walked to Miltonsburg, where young George Feiock (his sister Dorothea Landefeld Feiock's stepson) took him to his sister Dorothea and Old George Feiock's farm in Section 22.
George lived with his parents on Walter Ridge until 1893, when he married Barbara Mathilda (Tillie) Schmidt (1867-1901) and moved to a farm south of Miltonsburg (probably owned by Mathilda's family) on the southeast quarter of Section 9. He later purchased a 79-and-a-half acre farm south of this farm in Section 9. George paid $1500 for this farm. He borrowed $1000 from Adam Haren at 5 percent interest. George and Mathilda's son Wilhelm Michael (1894-1956) was born in this house. After Mathilda died in 1901, George moved to Miltonsburg and purchased the property on Lot 14, for which he paid $250.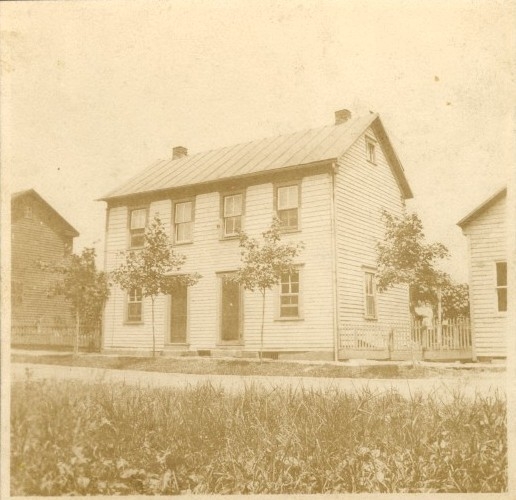 In 1905 George married Amanda Rosina Meusch (1871-1908), who had come to Miltonsburg c1903 to live with her brother and sister-in-law Friedrich and Lydia Meusch in the parsonage on Lot 40. One of Reverend Meusch's challenges was to convince the membership of the Evangelical and Reformed Church that they should begin using English rather than German in the sermons and church records. For a brief period George and Amanda lived in the house on Lot 14 before they moved to St. Louis, where George worked at the carpenter trade which he had learned in Monroe County from Abe Walters. Amanda's family was from St. Louis and the Missouri River Valley. Their daughter, Julia Landefeld (1907-2000) was born in St Louis on June 18, 1907. Amanda died at the age of 37 in 1908 and George, once more a widower, returned to Ohio, where he and Hulda lived in Dayton and Bellaire before returning to Miltonsburg in 1921 at which time he purchased the property on Lot 19. George lived there until he died in 1959 at age 92.