Lot 14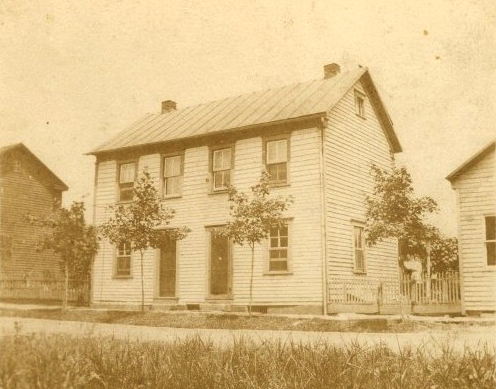 Tax records indicate that by 1855 a house was built on Lot 14 by either Lewis Eberling or Adam Greasner and that this house remained until it was razed about 2000.
George Landefeld
In 1893, George Landefeld (1867-1959), married (Barbara) Maltilde Schmidt (b. November 12, 1867, d. January 13, 1901) who was Charles Schmidt's (Lot 8) sister. They had one son, William Landefeld, born February 7, 1894. Matilde died in 1901 and, in 1903, George married Amanda Meusch, who had accompanied her brother, Frederick Meusch and his wife Lydia, to Miltonsburg. Rev. Meusch was called as the pastor of St. Peter's Evangelical and Reformed Church (Lot 39) where one of his main charges was to convince the members of the congregation to convert their sermons and church records from English to German. Amanda died in 1908, one year after the birth of their daughter Hulda Julia Theophila Landefeld. In 1925, George married Lucetta Bintz Neuhart (see Lot 46).
George Landefeld, his parents, Adam (b. February 14, 1822, d. September 6, 1884) and Katharina Hasel Landefeld (b. April 16, 1824, d. January 28, 1896) and five of his seven siblings came to America from Obergude, Germany between c1870 and 1885. His brothers and sisters are Martha (c1841-?) and Michael (1843-1901), who remained in Germany, and Wilhelm (1845-1911), who married Dorothea Deist; Dorothea (1848-1929), who married Jacob Peters and, after his death, George Feiock (1831-1908); Juliane (1857-1892), who married Jacob Freitag; John (1863-1937), who married Mary Christine Walters; August (1863-1952), who married Maria Neuhart and, after her death, Barbara Walters Ludwig.
Minnie Rausch
Minnie Rausch was the wife of William Rausch, who operated the blacksmith shop across the street at Lot 8. After her separation form William, Minnie married Louis Claus, who was the brother of Mamie Claus Young. (Lot 11 and Lot 45c). Louis (Louie) Claus served in various village positions including Town Clerk and Justice of the Peace, as well as secular roles such as operator of the Red Onion, a store/saloon which apparently was part of the store and house on Lot 10.
Lot 14 Owners
(Partial List)
1835 John Ferguson
1836 John Ferguson
1837 John Ferguson
1844 Lewis Eberling
1845 Lewis Eberling
1846 Lewis Eberling
1847 Lewis Eberling
1848 Lewis Eberling
1849 John B. Oblinger
1850 Lewis Eberling
1855 Adam Greiesemer
1860 Phillip Kremer
1866 Phillip Kremer
1870 ?
1875 Nic Ludwig
1880 Peter Dorr
1885 Peter Dorr
1890 Peter Dorr
1895 Peter Dorr
1899 Ernest Schafer
1905 George Landefeld
1910 Minnie E Rausch
1915 Minnie E Rausch
1920 Minnie E Rausch
1925 Minnie E Rausch
1930 Minnie E Rausch
1935 Minnie E Rausch
1940 Minnie E Rausch
1945 Minnie E Rausch
1950 Minnie E Rausch