Lot 22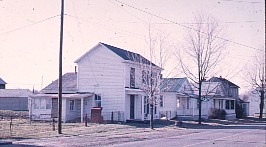 Tax records indicate that Augustus Mast improved Lot 22 in 1848 and, in 1885 Peter Dorr either built a new house or significantly remodeled the existing one ($760). Tax records suggest that Dorr's new house/remodeling remained on the lot until it was razed sometime after 1950. Another possible scenario is that the store immediately to the north is actually part of Lot 22, and that Dorr's improvement in 1885 was actually this store building.
Peter Dorr
Peter Dorr probably operated a store on this lot at least part of the time that he owned it between 1870 and 1910.
Charlie Reller
Charles Reller is the son of Michael and Mary (Deakick) Reller (See Lot 11 and Lot 29). His wife was Columbia (Bate?) Reller, who died in November 1936. Though there are no known references to his occupation, local history suggests that Charlie took over Michael's work as a buggy maker and cooper in his shop on Lot 29. In the Biographical Annals of Lancaster Co., Pennsylvania (J. H. Beers and Company, page 1106), Charles is listed as "a painter in Barnsville, Ohio; however, tax records suggest that he owned-and local history suggests that he lived on-Lot 22 in Miltonsburg from ca. 1895 until ca. 1935. His wife, Columbia died in Miltonsburg in 1936. Her obituary described her as being "well known throughout the Miltonsburg and Bethesda areas." Funeral services and burial, however, were in Bethesda. After Columbia's death Charlie moved to Bethesda where their son, Chester, was living.
At one time, this lot (see picture above) was enclosed by what appeared to be a metal/wrought iron fence. Since the Rellers were in the wheelwright/buggy-making business, it is possible that they made this fence, which was the only one of its kind in the village.
Chester Reller
Chester Reller, who operated a shoe repair and harness shop next to Charlie's house on Lot 23, married Lula Walters. Jerry (?) Walters, Lula's brother, lived in Bethesda and Chester saw an opportunity for a shoe repair shop in that town and he and Lula moved to Bethesda. Chester learned the shoe and harness trade as an apprentice to Adam Landefeld, who practiced that trade in the building on Lot 30. Chester's first shop was in the small shop building on Lot 12. A small notice in the Apri1, 1937 edition of The Zanesville Signal stated that "Chester Reller is opening a lunch and ice cream stand in the Bolon room" at Main and Railroad Streets.
Chester died in March, 1944. His obituary stated that he was "engaged in business at Bethsda until illness forced his retirement. Surviving are his widow, Mrs. Lulu (Lula?) Reller, two daughters, Miss Ruth of the home, and Mrs. Laurence Powell of Newton Falls, Ohio, and a son, Lloyd Reller of Bethesda. Mrs. Reller is a sister of Mrs. Charles McCurdy of Woodsfield." Mr. Reller was a veteran of World War I and a member of Epworth post No. 90, American Legion.
Oral History
Charlie Reller's wife, Columbia, smoked a pipe. One day, Columbia received a surprise visit from Lucinda Menkel, who was "a very proper person." She quickly hid her pipe in the drawer of her sewing machine and during the visit her sewing machine caught fire.
Charlie Reller made cider and when it was "ready," he would sometimes over indulge for days at a time. The cider was kept in the cellar, which was accessible only from an outside cellar door, which was a kind of trap door on about a 30-degree angle that covered the steps to the cellar. Evidently out of patience with his drinking, one day Columbia piled stones on top of the door and trapped Charlie in the cellar-the teller of the story did not say how long she kept him there.
Evidently Charlie and Columbia retained a sense of humor through it all. One time Charlie gave William Timothy a penny to go to the door and sing the following song to Columbia: "Yankee Doodle went to town / Riding on a pony / Stuck a penny in his hat / And called it Columbia Mahoney (?)"
I am not sure of the last word, which is clearly a "punch line" that everyone in Miltonsburg would have understood at the time. According to her obituary, Columbia's brother's name (and, I assume, her maiden name was Bate not Mahoney.) I guess you "had to be there" in order to understand the subtleties of this story. William Timothy was the son of Jessie Claus Timothy and the nephew of Mamie (Claus) Young, who lived on Lot 11 in the 1920s and Lot 45b from the 1930s until the early 1950s. The teller of the story noted that William Timothy was a young boy and added, "you know, all those Welsch people could sing."
It is often remarkable what stories survive in oral histories.
Lot 22 Owners
(Partial List)
1846 John Shankland
1847 Unknown
1848 Augustus Mast
1849 John B. Addis
1850 John B. Addis
1855 Charles Keller
1860 Peter Dorr
1866 Peter Dorr
1870 Peter Dorr
1875 Peter Dorr
1880 Peter Dorr
1885 Peter Dorr
1890 Joseph Weisend
1895 Charles Reller
1899 Charles Reller
1905 Charles Reller
1910 Charles Reller
1915 Charles Reller
1920 Charles Reller
1925 Charles Reller
1930 Charles Reller
1935 Charles Reller
1940 Hatcher Egger
1945 Isadore Burkhart
1950 Nick Reishman