Lot 24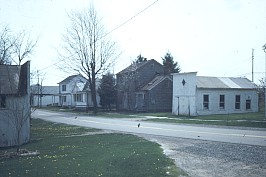 Tax records indicate that Henry Buchheister built the first structure ($150) on this lot in 1848. In 1885, when the lot was owned by John Eberly (Eberle?), the value rose to $340 and in 1915, when it was owned by Catherine Peters, to $450. It is difficult to determine whether these were replacement structures or renovations.
This house was described by Paul Young, Sr. as being well-built, probably the best in town. "It had marble sills." People who probably lived in, but did not necessarily own, this property include Dorothy Landefeld Feiock.
Freda Stalder Ankrom and her husband, Chancey Ankrom, lived here and operated the Miltonsburg Post Office, which was formerly located in the Stalder House on Lot 6, and the general store on Lot 10. The Miltonsburg Post Office closed in 1942. Chancey Ankrom "kept wood in the shop next door." This shop was on the same lot, not to be confused with Menkle's Monument Shop on Lot 25.
John M. Eberle
The following sketch of the life of John Eberle was taken from the 1898 Caldwell Atlas of Monroe County.
JOHN M. EBERLE – is a resident of Miltonsburg, Malaga township, where he is engaged as a monument and tombstone cutter and postmaster. He settled in this county, May 2 1876; was born in New York City, Aug 9 1833. His parents were John EBERLE, born in Würtemberg, Germany, died Jul 31 1873, and Anna Maria HARE EBERLY, born in Würtemberg, Germany, died Mar 7 1879. They came to this county in 1856. Mr. J. M. EBERLE's wife was Susannah YOUNG EBERLE, who was born in Scotland, Cotrine, Ayrshire, Oct 26 1840. They were married in New York City, Feb 16 1860, by Reverend John BRASH, a minister of the Presbyterian Church. Mrs. EBERLE's parents were John YOUNG & Agnes COWEN. Mr. EBERLE has been the postmaster of the town of Miltonsburg for about one year. In 1857 he was in the Oregon war under Colonel Stephenson in the battles of Sailor's Diggings, Happy Camp, Ft. Walla Walla, Indian Town, and the battle of Gold Spring, where they were defeated by the Flatheads. Mr. EBERLE was wounded in the leg by an arrow. He served about 11 months, and never received a cent for his services. He was also a member of the NY fire department for a term of five years, commencing in the year 1849. He served an apprenticeship of four years and six months with Nelson Sweezey, corner Fourth avenue and Eight street, where the Cooper Institute stands at the present time. Mr. EBERLE has been engaged in the tombstone business ever since, and now is the contractor of the soldiers' and sailors' monument, to be erected at Bellaire, Belmont county, OH. Address, Miltonsburg, Monroe county, OH.
Susannah Scott
Susannah Scott immigrated to United States after WWII from England. She was a member of a religious group known as simply "The Way." Edward Young and his wife (Mary) Mamie (Lot 11 and Lot 45b) belonged to the same group at this time. According to their website in 2008, "The Way is a world-wide non-denominational biblical research, teaching, and fellowship ministry headquartered in rural Ohio."
Lot 24 Owners
(Partial List)
1846 John B. Oblinger
1847 Henry Bucheister
1848 Henry Bucheister
1849 Henry Bucheister
1850 Jacob Walter
1855 Jacob Walter
1860 Jacob Walter
1870 Jacob Walter
1875 Charles Menkel
1880 A. M. Eberly
1885 John M. Eberly
1890 J. L. and L. C. Menkel
1895 E. H. and L. C. Menkel
1899 W. O. Menkel
1905 Phillip and Mary E. Yockey
1910 Catherine Peters
1915 Catherine Peters
1920 Catherine Peters
1925 Catherine Peters
1930 Catherine Peters
1935 Catherine Peters
1940 Catherine Peters
1945 Catherine Peters and Chancey Ankrom
1950 Susannah Scott