Lot 3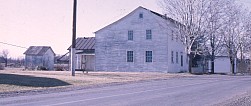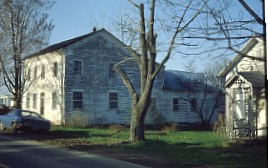 David Pearson/Pierson
In 1815, David Pearson and Elam Patterson operated a store at the mouth of Sunfish Creek where, in 1822, Pearson "laid out the town of Clarington and called it after his daughter Clarinda." In 1833 he laid out the town of Miltonsburg, naming it after his son Milton. Records show that Pearson was living in one of the 18 houses in Woodsfield in 1818. It is not clear whether David, Mary Anne, Clarinda, and Milton ever actually lived in Miltonsburg; however, tax records indicate that, by 1835, a significant $200 building was constructed on Lot 3, which he owned. It is possible that this was the house shown above, which razed in the 1990s.
Between 1835 and 1846 Pearson also owned Lot 5, Lot 7, and Lot 15, but there is no indication that they were developed during this time. Because he was part owner of a store in the Clarington area in 1815, it is possible that he operated a store during this time in Miltonsburg.
An account published in The Spirit of Democracy on February 10, 1885 included the following account from an anonymous "old pioneer."
Editor Spirit: As you requested the old pioneer men who came to Monroe county, fifty years ago and over, to write out their experience as pioneers, I will attempt to give your readers a short sketch of my early life in old Monroe.
It was in the year of 1829 that I, with my parents, three brothers and one sister bid adieu to our native state, New Jersey. I was then some past seven years old. Our journey was made in an old-fashioned Switzer one-horse wagon, and from this you may conclude that travel then was not as rapid as that at the present time. By the time we reached the state of Ohio we had been travelling four weeks. Between Moundsville and Powhatan on the West Virginia side our wagon stuck in the mud and my father kept guard over the wagon for a whole night. The next morning we received assistance of a yoke of oxen and finally arrived in Malaga township where we made our home for several months with my uncle, John Egger, who resided 1 ? miles south of the present site of Miltonsburg, (which was then still a wilderness) on the farm now owned by F. J. Snyder. I remember when my uncle said to my father: "Jacob, we will now have a store for Mr. Pierson of Woodsfield intends to lay out a town and build a store room." It was done about the year 1836.
John B. Oblinger
John B. Oblinger owned this lot from about 1844 until 1880. Between 1850 and 1880 he made several improvements which could have been house additions and/or outbuildings. Since the lot value remained fairly constant, considering depreciation, until 1950, it is possible that the house in the photo could have been built as early as 1835.
Oblinger was a major citizen of Miltonsburg during these years. He was a native of Kleineich (?) in Lorraine, France. The following excerpts from a letter that he wrote to his relatives, Christina and Christopher Suss of Kleineich, present not only a good description of the life of a Miltonsburg resident but also of the life of countless immigrants from Europe during the nineteenth century. This information came from the Bulletin of the Catholic Record Society, Diocese of Columbus (Barquilla de la Santa Maria) Vol. XIV, No. 8, August, 1989: Some Early Records of the Catholic Church at Miltonsburg, Monroe County, Ohio.
Miltonsburg, 3 February, 1851
I hope this letter will find you as well as we are. Already 20 years have passed since we last saw each other nor have we had the pleasure of any correspondence during that time. We have heard nothing from one another … . When we think back dear relatives our life in this world is like smoke in the wind, and when I look back to the old home where I was born and spent the happiest days of my youth where neither trouble nor grief disturbed me, it seems as though it was only yesterday. … We have not heard the least news of any kind from our relatives since we arrived in this strange country. The only thing we have heard was through Mr. Meyers' letter to me last fall. I do not know whether or not my Aunts and Uncles are still living in Harburg, Strasburg, Kolmar, Momarting. Sisters Margaret, Catherine, brother Martin, also Joseph Friang are relatives. Write everything carefully as to how things are going with you.
Now I will relate some events which occurred to us from the time we left the old fatherland to this day. We arrived safely at Havre de Grace, France, then after an ocean voyage of 74 days we landed safely in Philadelphia in June in good spirits and in good health. We remained in Philadelphia until the following September. We then went into the country about 150 miles from Philadelphia where we remained until April 1833 still in the State of Pennsylvania and entirely among English speaking people. We were dissatisfied here and went to Pittsburg and then into the State of Ohio where we bought land and where we (those who are left of our family) are still living. Now we all lived together until 1836. Then brother Adolph married an American. In the year 1839 I married a German (compatriot) from Oldenburg. So far everything went well. Brother Conrad married a German and went to New Orleans. Sister Maria married a German in 1842 and Brother Louis married an American. In Oct. 1844 I began business as a merchant and I am now engaged in large business. In 1845 our dear Lord permitted for the first time sorrow to enter our home. On August 13th Joseph Friang died after a sickness of 8 days. In March 1850 Philip Yunkes, who married my sister Maria, wished to go to California and took brother Adolph with him. That is the gold country where they dig gold out of the ground. No doubt you have heard of it. That was a long and dangerous journey. Many have lost their lives on account of the glittering gold. Yes, sad is it for you to hear that both paid Nature's debt on June 24th 1850. Adolph left his wife and 8 children and Philip his wife and 2 children. It is a sorrowful fate, but it was our dear Lord's will, at least He permitted it. Our sorrow does not end here. On Dec. 8th 1850 Conrad died in New Orleans of cholera, left his wife, no children as far as I know. There remains now Mother, myself, sister Maria, brother Louis. We live all together and are well as long as it is God's will. I have 6 children, 4 girls and 2 boys. I live in the town of Miltonsburg, about as large as Malateri was when we left home. There are 4 stores here. I alone deal in tobacco, which I ship to Baltimore and reship from there, a part to Germany, part to England, a part to France and part to Russia. …
Dear relatives, surely a visit to the old fatherland where I could grasp the hand and embrace my dear sisters and relations again and kiss my dear sisters would be my only wish. But I cannot go alone and my family is too large to take along. Therefore, I do not know that we will meet again until beyond this world, where we will have a friendly welcome where there is neither sorrow nor grief and no parting but sentiments of love and joyful hearts, which I hope may be our portion. Also take with you my best wishes for your success.
I remain faithfully yours, etc.
John B. Oblinger
God bless you and all of us.
John Oblinger was a key member of the Miltonsburg Catholic Church, as indicated by the following excerpts from a letter written by the Bishop at Cincinnati to Oblinger in April of 1842. The letter also offers insight into the Catholic community and the task of establishing a new parish in a new village in Southeastern Ohio. (Same source as the above letter.)
Cincinnati, April 22, 1842
My Dear Mr. Oblinger
I have received your Letter of the 8th April, informing me that you have cleared one acre and an half of the three acre lot on which we proposed to erect the new Church.
It will be well if we can finish a Church 56 by 36, 8 windows and two doors, for 1900 dollars. But you may be sure that a building always costs considerably over what is at first calculated upon. Now if you can only get 625 dollars subscribed, it is very little and besides you cannot collect it all. And as for sending men through the different states, as you say, to collect, the bishops of those states will not allow it, for they have poor Congregations of their own, who have need of every cent they can spare to build churches for themselves. I do not think that you can calculate on receiving as much by such a begging expedition as would defray the expenses of the men who would go on the begging tour. Moreover, it often happens that such a plan gives occasion to much disturbance and dissension among the people who had once been friends, when the collectors do not bring back much money and when they are suspected by some of having put part of what they had collected into their own pockets. We are in extreme want of money now in Cincinnati to build the new German-Church and the Cathedral, and yet we do not dare appeal for help to the other States, nor would it be of any use.
My opinion therefore is that if you cannot raise the money enough among yourselves, with the help of my subscription of fifty dollars, to put the Church under roof, you had better not attempt it, at present. These are terrible times to run into debt, and of all things in this world I dislike seeing a Catholic Church sold for debt.
Please do remember me affectionately to Mr. and Mrs. Beninghaus (?} and all friends and believe me to be with respect.
Yrs. in God
bq. + J.B. B
A list of students who earned an AB degree from the Augustinian Monastery, College, and Mission of St. Thomas of Villanova includes the name of J. B. Oblinger of Miltonsburg. No doubt the son of J. B. Oblinger, this young man would have been nineteen years old when he earned this degree in 1872.
Oral History
Hulda Landefeld Young recalls that Dr. Johnson lived in the house on Lot 3 in the early 1920s (perhaps earlier). She recalled, in particular, his coming out of his house and going to his office in the little building on Lot 4. At this time the house had a "wire fence" around it.
Lot 3 Owners
(Partial List)
1835 David Pearson (aka Pierson)
1836 David Pearson
1837 David Pearson
1844 John B. Oblinger
1845 John B. Oblinger
1846 John B. Oblinger
1847 John B. Oblinger
1848 John B. Oblinger
1849 John B. Oblinger
1850 John B. Oblinger
1855 John B. Oblinger
1860 John B. Oblinger
1866 John B. Oblinger
1870 John B. Oblinger
1875 John B. Oblinger
1880 John B. Oblinger
1885 T. E. Watson
1890 Samuel Groux
1895 Samuel Groux
1899 Samuel Groux
1905 Samuel Groux
1910 Samuel Groux
1915 Samuel Groux
1920 Clemence M. Burkhart
1925 Clemence M. Burkhart
1930 Emma Burkhart
1935 Woodsfield Savings and Loan
1940 Anna Siegel
1945 Anna Siegel
1950 Anna Siegel