Lot 30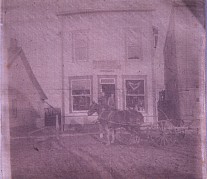 Tax records indicate that Henry Yockey built a structure ($200) on Lot 30 in 1848. Although the value is a bit more than other log houses, it is likely that this structure is the log house that still stands on the north part of this lot in 2007. John Hein made improvements ($241) in 1855. Since Hein was a blacksmith it is possible that this improvement was a small blacksmith shop on the south side of the lot. When Henry Claus owned the property the value dropped to $180, possibly because the blacksmith shop was removed. In any case Adam Landefeld, nephew of George Landefeld (Lot 14 and Lot 19), purchased this lot about 1905 and made a significant improvement ($570) about 1910. This is probably the structure shown in the photos, which was torn down in the late 1900s.
John Hein (Hine) (c1825-1900)
Most of the information we found on John Hein came from an obituary of his son, John J. Hein, who was born in Miltonsburg in 1849. This obituary was published in Past and Present of Hardin County, Iowa (William J. Moir, ed., Indianapolis: B. F. Bowen, 1911, pages 877-78). Excerpts follow; the entire text can be read at the Iowa Biographies Project .
Mr. Hein is a Buckeye by birth, having been born in Miltonsburg, Monroe county, Ohio, November 26, 1849, and he is the son of John and Elizabeth (Pepple) Hein, natives of Hessen-Darmstadt, Germany, from which country they emigrated to America when young, located in Monroe county, Ohio, and married there, and there they spent the rest of their active lives, he working at the blacksmith's trade, his death occurring in 1900 at the age of seventy-five years; the mother is still living, making her home in Belmont county, Ohio, and she is now eighty-three years old. She is a member of the Lutheran church, as was also Mr. Hein. He was a highly respected citizen, his character being above reproach. Their family consisted of six children, three of whom are living, namely: Elizabeth is deceased; J. J., of this review; Christina married Lon Stewart, of Belmont county, Ohio; William and Kate are deceased; Annie married Ed. Griffeth and they live in Belmont county, Ohio.
John J. Hein received his education in the old-time log school house in Ohio, and when a small boy he started to learn the blacksmith's trade with his father, continuing the same until he was twenty years old, when he went to work with an uncle, Baltzer Hein, at Woodsfriend [sic], Ohio, where he remained three years, then went to East Liberty, Pennsylvania. He worked three months in the Pennsylvania car shops, also worked at Pittsburg, then returned to Ohio and worked with an uncle.
The fact that John J. was born in Miltonsburg in 1849 strongly suggests that the "old time log school house" was in Miltonsburg; however, we have only some oral history hints of this building and no evidence of where it was located.
Henry Claus, Sr.
According to an obituary in The Spirit of Democracy, Thursday, November 10, 1904, Henry Claus, Sr. was born February 15, 1818, in Hessia, the son of Johannes and Katharina Kuhlman Claus. On May 25, 1843, in Germany, he married Elizabeth Ackerman, the daughter of Adam Ackerman and Katharina Kaul Ackerman from Herlefeld, Germany. Elizabeth was born February 7, 1819, in Hannasfiled, Spanixburg, Hastelcastel, Germany and died July 7, 1901. In 1847 they immigrated to America, and settled in Miltonsburg, Monroe County, Ohio.
Henry and Elizabeth had six children: Casper died at sea on the way to the United States. Four sons, Adolph, Justice, Frederick, and Henry, and one daughter, Mrs. Andrew (Elizabeth) Reich. The interment took place in the Miltonsburg cemetery with the Reverend Frederick A. Meusch having charge of the services. His wife, Elizabeth, is buried there also. Mr. Claus was the oldest member of the Miltonsburg Evangelical Church, and was connected with that Church ever since his coming to this country.
Adam Landefeld
Adam Landefeld (1875-1957) was the son of Martha Landefeld (1841-?). Adam came to America with his grandparents, Adam Sr. (1822-?) and Katharinin Hasel Landefeld (1824-1896). He learned the cobbler and harness making trade and operated his business in this building.
Ola Steed Egger and Albert Egger
About 1945 Lot 30 was split. Albert and Ola Egger purchased the north part on which the house was located and Simon Miller the shop on the south part. Albert and Ola lived at Lot 42 from about 1920 until Albert's death about 1935. They had two children: Paul (1911-1991) and Wilda Egger Turner. Paul learned the barbering trade in Miltonsburg and practiced barbering in Miltonsburg and Woodsfield.
Simon Miller
Leo Miller was born in 1880 and died in 1951. Simon's father was John Miller, who was born May 11, 1844, in Monroe County and died May 11, 1915, and his mother was Mary Anna Crock Miller. Mary Anna was born on June 16, 1846, near Fulda, Noble County, Ohio and died on April 4, 1922, in Barnesville, Ohio. Simon's parents were married on February 4, 1867, in St. Mary's Church in Fulda, Ohio and in 1884 they moved to Monroe County, Ohio. Their children were: Elizabeth, George, Andrew, Barbara, Edward, Apollonia, and Leo Simon.
Lot 30 Owners
(Partial List)
1848 Henry Yockey
1849 Henry Yockey
1850 John Hine
1855 John Hine
1860 George Feiock
1870 George Feiock
1875 George Feiock
1880 George Feiock
1885 Henry Claus
1890 Henry Claus
1895 Henry Claus
1899 Henry Claus
1905 Adam Landefeld
1910 Adam Landefeld
1915 Adam Landefeld
1920 Adam Landefeld
1925 Adam Landefeld
1930 Adam Landefeld
1935 Adam Landefeld
1940 Adam Landefeld
1945 Simon L. Miller
1950 Simon L. Miller (part of the lot)
1950 Paul Egger and Wilda Turner (part of the lot)