Lot 32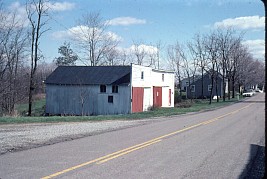 Tax records indicate that James Shankland built a significant structure ($411) on Lot 32 in 1847 but that by 1890, when it was owned by Samuel Groux, the value had been reduced to $10, suggesting that all structures were removed. By 1915, when Lot 32 was owned by Charlie Schmidt, the value increased to $175, suggesting that one of the structures (the south, known later as the Cider Mill) that existed until about 2000 was built at that time. In 1935, when the lot was owned by Adolph Claus, the value increased again to $210, which may have been when the second structure (north, known as the packing house) shown in the photo was built.
Oral History
About 1920, Joe Spangler operated a Cider Mill in the southern building on Lot 32. Andy Wagner worked for him.
About 1925, Adolph added a north wing to the Cider Mill for the purpose of packing tobacco for Ed Peters.
Lot 32 Owners
(Partial List)
1845 James W. Shankland
1847 James W. Shankland
1848 James W. Shankland
1849 James W. Shankland
1850 James W. Shankland
1855 Nathan Hollister
1860 Peter Dorr
1865 Peter Dorr
1870 Peter Dorr
1890 Samuel Groux
1895 B. A. Yunkes
1899 B. A. Yunkes
1905 B. A. Yunkes
1910 C. C. Schmidt
1915 C. C. Schmidt
1920 J. E. Spangler
1925 Adolph Claus
1930 Minnie Burkhart (part of lot)
1930 Ed and Mamie Young (part of lot)
1935 Minnie Burkhart
1935 Adolph Claus
1940 Minnie Burkhart
1940 Adolph Claus
1945 Minnie Burkhart
1945 Adolph Claus
1950 Mary Burkhart (part of lot)
1950 Frank Claus (part of lot)
1950 Charles Landefeld (part of lot)