Lot 35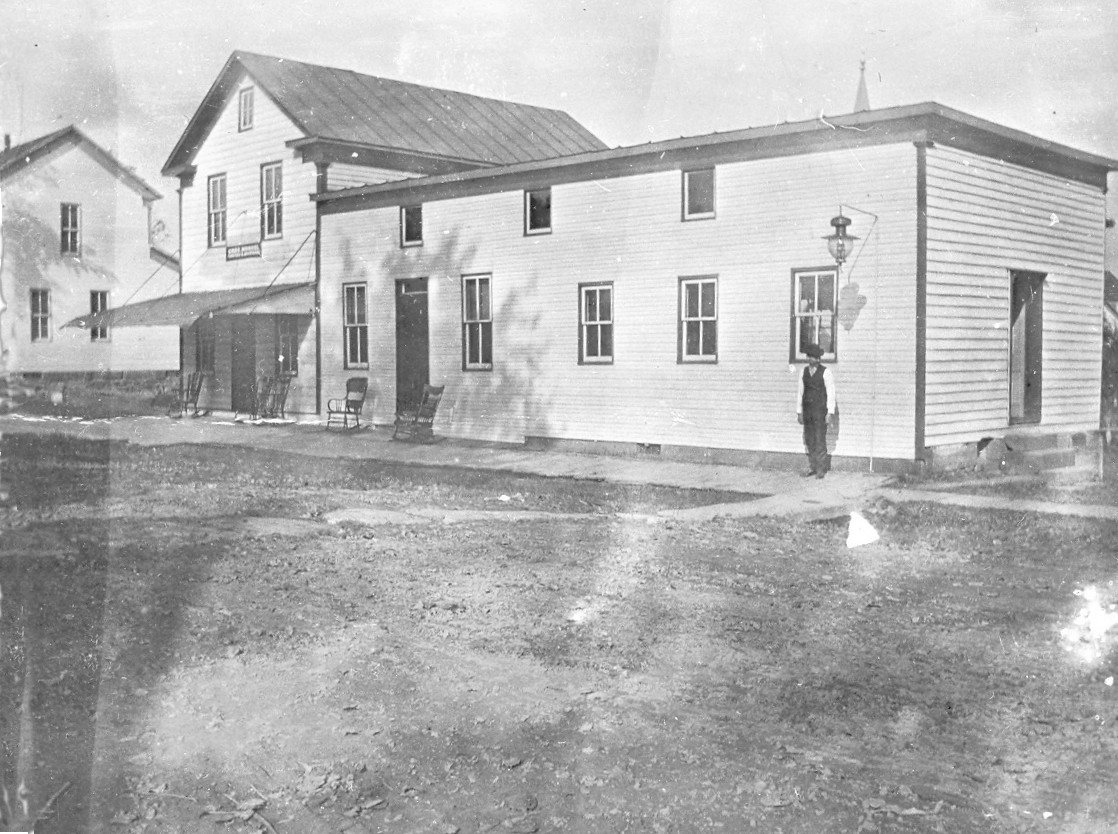 Tax records indicate that Henry Reed built a structure($123) on Lot 35 in 1847 and made an improvement ($270) in 1855. The value slowly declined ($40) under Henry Menkel's ownership until about 1915 when it increased to $260, which is probably because of the building shown in the photograph, which was removed about 1945.
Oral History
Charlie Menkel operated a furniture shop and undertaking business in this building. (Before the Menkels a man named Eberly was the village undertaker.) Charlie kept the hearse downstairs and there was a driveway to the right (?) of the building. Charlie dug a cistern in the basement of his shop using small tools. The basement had a bathroom with a tub. He always washed his hands in a basin attached to the drain pipe. There was an attic in the flat part of the shop, which was accessed by a spiral stair. There was a boardwalk between Menkel's shop and the Cider Mill on Lot 33 (see the picture on Lot 34).
One of George Freitag's riddles for the town children to solve was, "When is Charlie Menkel in his shop without his head?" The answer was when he was sticking his head out the window to see what was going on up and down Main Street-which he apparently did quite often.
Bill Menkel, Charlie's brother, operated a monument shop in the building on Lot 25.
Lot 35 Owners
(Partial List)
1846 Henry Reed
1847 Henry Reed
1848 John Thomas
1849 John Thomas
1850 William Reed
1855 William Reed
1860 Henry Menkel
1866 Henry Menkel
1870 Henry Menkel
1875 Henry Menkel
1880 Henry Menkel
1885 Henry Menkel
1890 Charles F. Menkel
1895 Charles F. Menkel
1899 Charles F. Menkel
1905 Charles F. Menkel
1910 Charles F. Menkel
1915 Charles F. Menkel
1920 Charles F. Menkel
1925 Charles F. Menkel
1930 Charles F. Menkel
1935 Charles F. Menkel
1940 Charles F. Menkel
1945 Charles F. Menkel
1950 Isadore Burkhart