Lot 37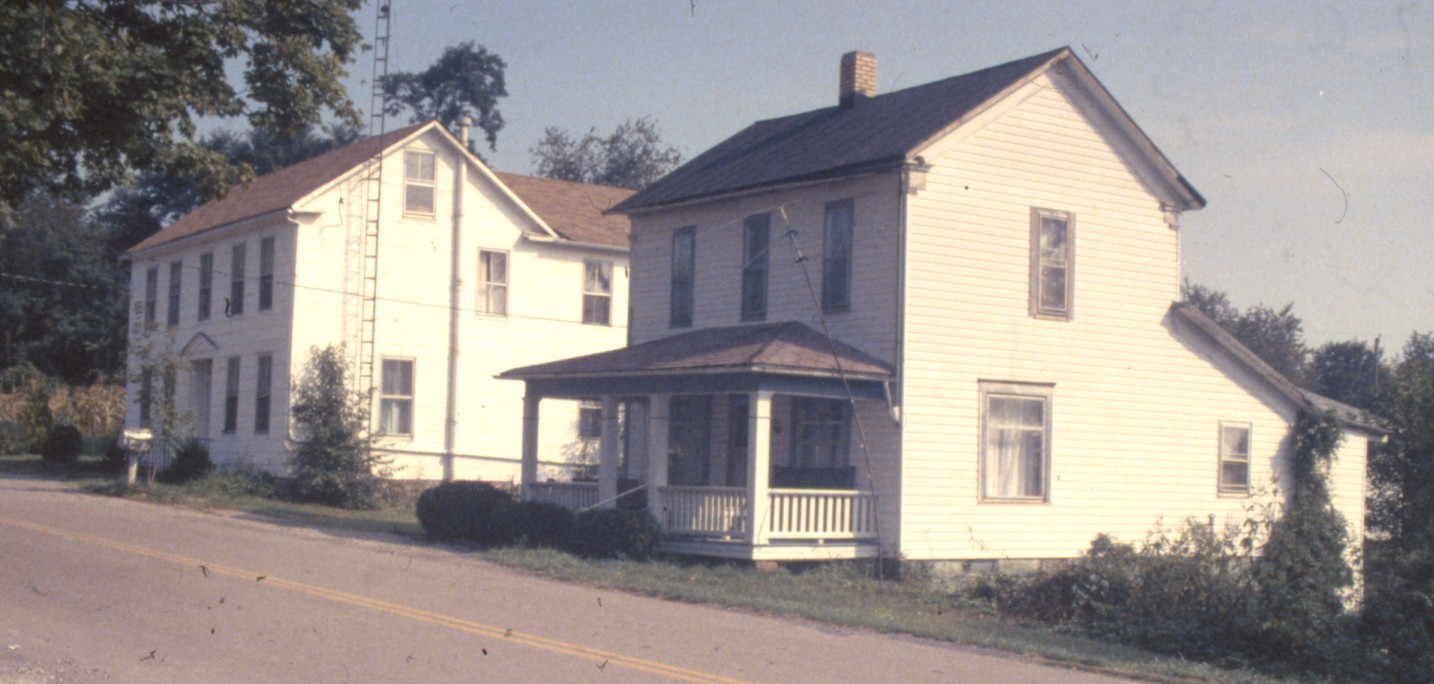 Tax records indicate that Conrad Wall built a substantial structure ($211) on Lot 37 in 1847. About 1895 the value jumped to $420, suggesting that the house shown in the photo from about 1960 was built at this time, probably by Dr. (?) D.J. Pugh. In a much-altered state the house still exists in 2007.
H. L. Rosenberry
A genealogical record dated 1906 and reprinted in 1973 includes the following information about Harvey Lyman Rosenberry (source: RootsWeb website):
Harvey Lyman Rosenberry was born on September 14, 1857 in River Styx, Medina County, Ohio. His father was Samuel L Rosenberger born June 21, 1809 in Lower providence Twp, Montgomery County, Pennsylvania. (Apparently sometime between 1809 and 1857, the name was changed from Rosenberger to Rosenberry.) His mother was Sarah Bertolet Rosenberger, born 1817 in Skippack, Montgomery County, Pennsylvania.
On August 5, 1884, Harvey Rosenberry married Lillie Belle Fowler. Their children were: Amy Fowler, born December 19, 1885; Sarah Maria, born July 26, 1888; and Ella May, born August 2, 1892. Based upon the tax records Amy and Sarah were probably born in Miltonsburg and Ella in Menominee, Michigan.
Dr. Rosenberry resided in the old homestead (probably in Medina County) until the age of 14, then removed to Kalamazoo County, Michigan. At the age of 18 (in 1875) he entered the State Agricultural College, worked his way through and graduated August 16, 1881. (This was probably the Ohio Agricultural and Mechanical College, which was renamed The Ohio State University in 1878.) He then entered the office of Dr. J. F Baldwin, Columbus, Ohio, attended one course of lectures at the Columbus Medical College and a second course at the Starling Medical College of the same city and graduated from the latter institution on February 28, 1883. He then located at Malaga and Miltonsburg, Ohio, and removed from there July 15, 1891, to Menominee, Michigan, and May 15, 1894, he removed to Wausau, Wisconsin, where he has since resided and practiced his profession.
Oral History
Paul Young, Sr. recalled that Ed Holland lived in this house in the late 1920s, although he is not listed as an owner.
Lot 37 Owners
(Partial List)
1846 Conrad Wall
1847 Conrad Wall
1848 Henry Reed
1849 Ohio State
1850 Henry Reed
1855 Henry Reed
1860 Christian Goumley (Gromlich?)
1866 Elizabeth Reller (Keller?)
1870 Elizabeth Reller (Keller?)
1875 Elizabeth Reller (Keller?)
1880 Samuel Stewart
1885 H. L. Rosenberry
1890 H. L. Rosenberry
1895 D. J. Pugh
1899 Jacob Howiler
1905 Jacob Howiler
1910 Jacob Howiler
1915 Jacob Reischman
1920 Jacob Reischman
1925 Elizabeth Peters
1930 Elizabeth Peters
1935 Elizabeth Peters
1940 Elizabeth Peters
1945 Elizabeth Peters
1950 N. M. Riemenschneider