Lot 39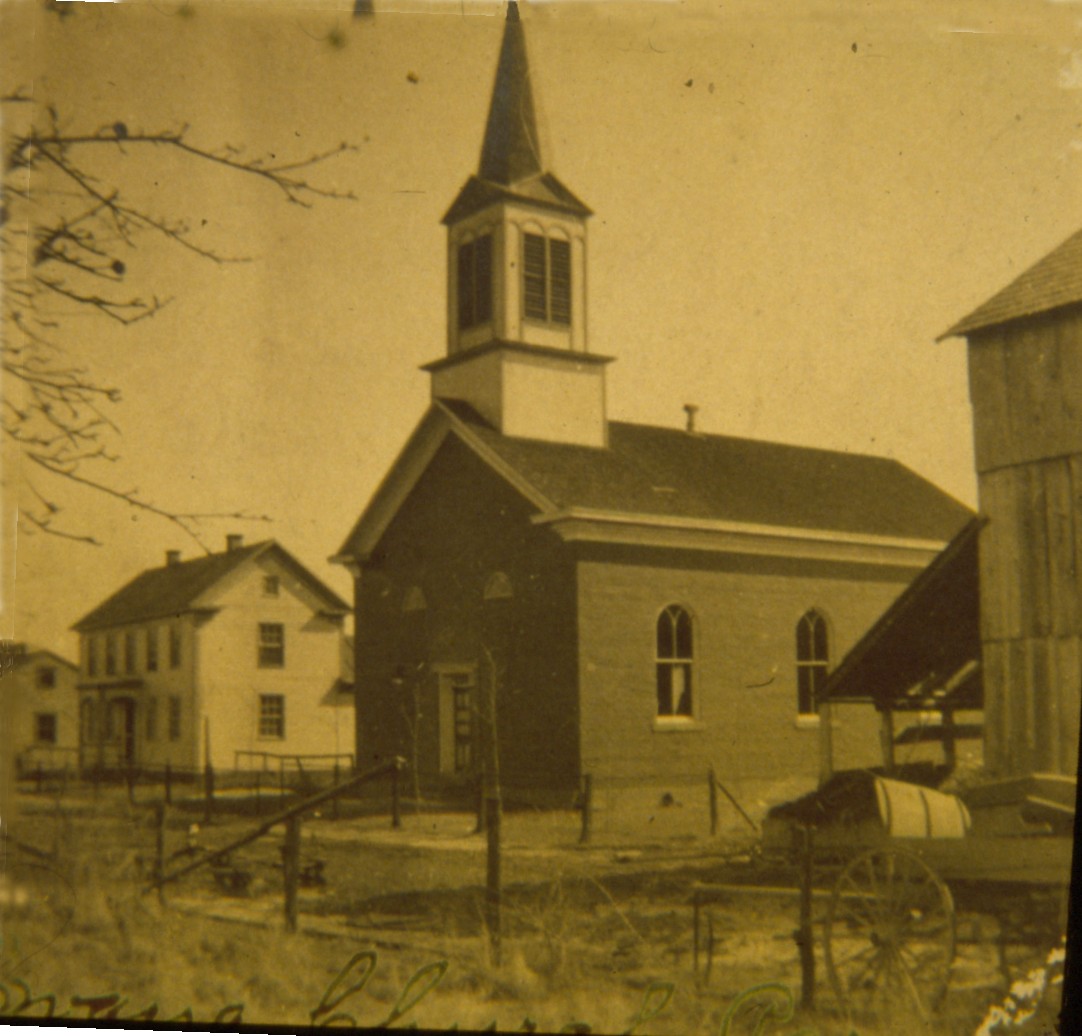 Tax records indicate that Lot 39 was not improved until about 1855, when it was owned by the German Lutheran Church. Since religious buildings were exempt from tax, no values were recorded for the property on this lot.
Known ministers/residents of Lot 39:
1870 Frederick F. Weissgerber
1874 Fredrich Reller
1880 Carl Burkhard (Burghart?, Burkhart?)
1887 Karl Mueller (Miller?)
1890 J. R. Mueller (Miller?)
1896 Gotthelf Weise
1898 F. W. Gretzeler (Gritzler?)
1900 Otto Albright (Albrecht?)
1904 Frederick A.Meusch
1910 Rev. Haubrich
1911 G.W. Krause
1915 Wm. Kohler
1916 Paul Seleske
1919 Otto Mueke
1922 Oswald Flohr
1925 Wm. Hille
1926 Walter L. Weber
1929 Chester Gaum
1930 Edward W. Bruescke
1933 Robert Johnson
1938 Wm. R. Walch
1941 Frank A. Reigel
1950 George W. Varnes
Frederick Weissgerber
Frederick Weissgerber is listed in a website by Matt Lewis as serving St. Peter's church in Miltonsburg in 1870. Between 1851 and 1886, he served 12 churches in Ohio, Indiana, Illinois, and Iowa. In addition to St. Peter's in Miltonsburg, between 1858 and 1861 he was the minister at other Ohio churches including: St. Peter's Evangelical and Reformed Church in Switzerland Township of Monroe County; from 1861 to 1864, St John's (?) Evangelical and Reformed Church in Stark, County (Massilon?); from 1871-73 in Seneca County (Tiffin?); from 1873-1875, St. John's Evangelical Lutheran Church in Kenton, Hardin County; and from 1875-1880, St. Paul's Evangelical and Reformed Church in Sidney, Shelby County.
Frederick Weissgerber was born in Meuselwitz, in the Duchy of Saxony-Altenburg on February 21, 1815. He was the oldest of six sons and his father was a coppersmith. He attended school in Altenburg and studied theology in Jena. He married his wife, Caroline, sometime between 1850 and 1854 and in 1849-50 he was a preacher in Altenburg and representative in the Altenburger Landestag (city council). In 1851 he published several tracts that put him in disfavor with the local establishment in Altenburg and around 1851 he came to the United States.
His children are August and Henry born between 1854 and 1858; Louis, born in 1859; Caroline, 1860; and William, 1864.
Frederick Meusch
Frederick Meusch came to the Miltonsburg Evangelical and Reformed Church c1903. One of Reverend Meusch's challenges was to convince the membership of the Church that they should begin using English rather than German in the sermons and church records.
Some of the photographs of buildings included in this website were printed on silk for the purpose of being sewn together to make pillow covers. As an avid photographer, it is likely that these photographs were taken by Reverend Meusch or Everett Steed, another local photographer.
Frederick Meusch was the son of Phillip Meusch, who was the second President of Elmhurst College from 1875 until his death in 1880.
Oral History Notes
The first Miltonsburg Church was a log building built in 1833 on the location of the cemetery south of the village. The land was donated by Christaef (Christian?) Schaub. Ola Egger recalled a log house on the field south of the cemetery which could have been the original church building. George Schraeder used this structure as a sheep barn in the early 1900s.
Early members of the church included Laurence Yockey, Christian Schaub, Kuhlen (?), John Egger, George Binger, George Schell, Daniel (?), Gemben, Jacob Egger.
See Miltonsburg Religious Life for further information.
Lot 39 Owners
(Partial List)
1846 Isadore Binke
1847 Joshua Bruce
1848 George Burkhart
1849 John Greiner
1850 George Patten
1855 German Protestant Church
1860 German Protestant Church
1866 German Protestant Church
1870 German Protestant Church
1875 German Protestant Church
1880 German Protestant Church
1885 German Protestant Church
1890 German Protestant Church
1895 German Protestant Church
1899 German Protestant Church
1905 German Protestant Church
1910 German Protestant Church
1915 German Protestant Church
1920 German Protestant Church
1925 German Protestant Church
1930 German Protestant Church
1935 German Protestant Church
1940 German Protestant Church
1945 German Protestant Church
1950 German Protestant Church