Lot 4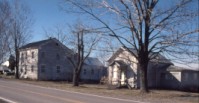 Tax records indicate that a significant, $200 building was constructed on this lot by Daniel Kaylor in 1855; however, by 1866, when the property was owned by John B. Oblinger, value had dropped to $20, suggesting that this structure had been removed. In 1890 the value jumped to $80, which suggests that the small building on the site may have been built by Sam Groux about this time.
Lawrence Neuhart
Lawrence Neuhart's daughter, Lena, married John Adam Fliehman, who died April 23, 1886. They lived in Monroe County and had 13 children.
John B. Oblinger
See Lot 3.
Samuel Groux
Samuel Groux's name appears in various Village documents and the names Sam and Hen Groux (his son) often cropped up in my discussions with older residents of Miltonsburg. Sam Groux served as mayor of Miltonsburg and as Justice of the Peace. Following is his biography as it appeared in the 1898 Caldwell Atlas of Monroe County:
Samuel Groux is a merchant of Miltonsburg, Malaga Township, and the son of George Francis Groux and Rosa Decoppet, who lived in Switzerland. Mr. Groux was born in Switzerland, Sep 16, 1835, and came to this county in the year 1853. He was married in Lee Township, Monroe County, OH, on the 20th of May 1859, to Anna Walters, who was a native of Switzerland, where she was born Oct 20, 1838. Mrs. Groux's parents were Jacob Walter, deceased, 1853, and Christine Susannah Layman, deceased, 1863. They came to this county in 1853. The children of Samuel & Anna Groux are: Ferdinand, born Feb 28 1863; Henry (Hen), May 18 1864; Lewis, Sep 16 1867; all are living at home. Mr. Groux enlisted in the 7th Missouri Regiment in 1863, served 18 months, and was then honorably discharged. He was principally in skirmishes, fighting guerrillas in the States of Missouri&Kansas. He was elected to the office of Justice of the Peace for Malaga Township in the year 1875, and is now performing the duties of said office in his third term. Mr. Groux settled in Ohio Township when there were very few people in the township, and went through all the hardships incident to the settlement of a new country. In his younger days he cleared 80 acres of ground, and has been in the mercantile business ever since 1870. He has also served as mate on steamboats on the Ohio, Mississippi, Missouri and Cumberland rivers, from 1853 to 1860. His address is Miltonsburg, Monroe County, Ohio.
Charles J. Landefeld
Charlie Landefeld was a nephew of George Landefeld, who was the owner-resident of Lot 19 from c. 1925 until 1959. His parents were August and Barbara (Walters) Landefeld. The Landefeld family came to Ohio from Obergude, Germany between 1860 and 1885.
Oral History
Dr. Johnson had his office in a little house on this lot and at one time he lived across the street on Lot 17. Dr. Johnson came from Lower City. As a child, Paul Young, Sr. recalls going with Dr. Johnson to visit Leatherhead Burkhart. Leatherhead, who lived on Walter Ridge, was Mary Biedenbach's father. He got his nickname because he had such a "tough head."
Sam Groux operated a store in the little building on this lot.
Everett Steed and later Albert Egger (Everett's brother-in-law) barbered in the small building on this lot. Paul Egger, Albert's son, who later barbered in Woodsfield, did some practice barbering on Bill Allshouse (Lot 9) in this building.
Paul Young, Sr. recalled that someone (perhaps Chester Reller) had a shoe repair and harness shop in this building.
Other residents of the small building on this site include:
Phenne Hatfield, a niece of George Landefeld (Lot 19) and daughter of Dorothy Landefeld Feiock (Lot 20)
Little Clem Burkhart, Jacob Burkhart's (Lot 27) cousin.
Lot 4 Owners
(Partial List)
1835 Perry Hefs
1837 Perry Hefs
1844 Ohio State
1846 Christian Kaylor (aka Keylor)
1847 Christian Kaylor
1848 Daniel Kaylor
1849 Daniel Kaylor
1850 Daniel Kaylor
1855 Daniel Kaylor
1860 Lawrence Neuhart
1870 John B. Oblinger (See also Lot 3)
1875 John B. Oblinger
1880 John B. Oblinger
1895 Samuel Groux
1899 Samuel Groux
1905 Samuel Groux
1910 Samuel Groux
1915 Samuel Groux
1920 Clemence M Burkhart
1925 Clemence M Burkhart
1930 Emma Burkhart
1935 Woodsfield Building & Loan
1940 Charles J. Landefeld
1945 Anna Siegel
Note: Lot 4 was split between 1945 and 1950.
1950 Anna Siegel (South)
1950 Carl and Gladys Dillon (North)