Lot 9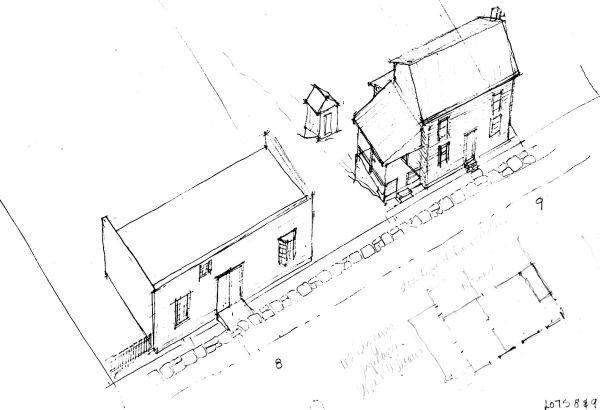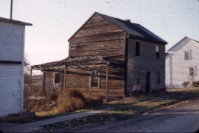 Apparently some type of structure was built on this lot as early as 1835 when in was valued at $76, well above the value of an unimproved lot. By 1844, when it was owned by Joseph Ritterbach, the value was $9. In 1849, tax records indicate that Ritterbach built a log house and the value went to $109. By 1850 it increased to $229 and slowly deteriorated until the house and out buildings were razed sometime after 1950.
Francis J. Rederback (Joseph Ritterbach?)
Francis J. Rederback is listed in the 1850 census as a 59-year-old weaver who was born in France. His wife Rosannah, age 48, was born in Germany.
Emma Allshouse
Emma Allshouse and her husband, Frank, had three children: Dorothy, Harry, and William. Frank Allshouse was a day laborer who worked for various people in the community.
Lot 9 Owners
(Partial List)
1835 Andres Shell
1836 Andres Shell
1837 John Ritz
1844 Joseph Ritterbach
1845 Joseph Ritterbach
1846 Joseph Ritterbach
1847 Joseph Ritterbach
1848 Joseph Ritterbach
1849 Joseph Ritterbach
1850 Joseph Ritterbach
1855 Joseph Ritterbach
1860 Conrad? Moore
1866 Conrad? Moore
1870 Conrad? Moore
1875 Jacob Menkel
1880 Jacob Menkel
1885 Jacob Campbell
1890 S. A. Menkel
1895 ? Yockey
1899 Samuel Yockey
1905 Minnie Rausch
1910 Emma Allshouse
1915 Emma Allshouse
1920 Emma Allshouse
1925 Emma Allshouse
1930 Emma Allshouse
1935 Emma Allshouse
1940 Emma Allshouse
1945 Emma Allshouse
1950 Emma Allshouse