Outlot 10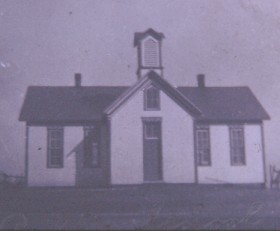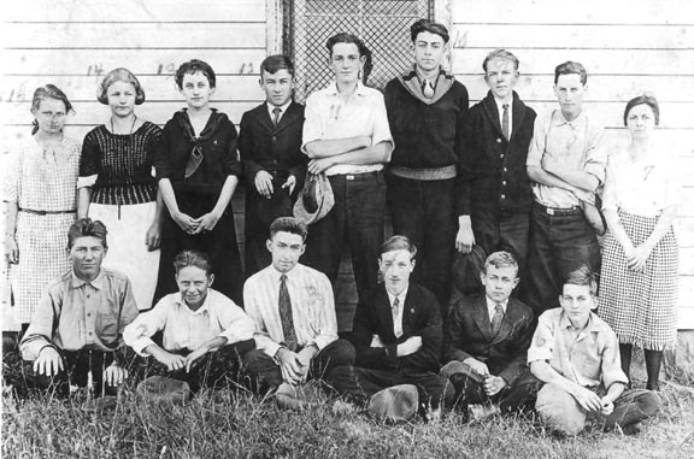 See also the article on the Miltonsburg School.
Tax records for outlots are not as clear as for in lots. Lot 10 seems to have been plotted as early as 1846 when it was owned by Jefferson Conley; however, it apparently was not developed unto c1855 when Charles Keller built a structure that raised the value to $57. About 1860 the value increased to $73, suggesting that the structure was improved or additional buildings were added. Various genealogical records note that a Miltonsburg child attended a one-room school in Miltonsburg. We have found no records that indicate where this building was located. However, since Outlot 10 was owned by the Board of Education by about 1895, it is tempting to assume that the earlier structure was a log school built on privately owned property. Once the lot was owned by the Board of Education, the value was listed as zero dollars and after 1925 it apparently was not listed in the tax records.
From an article written by Clyde Decker and published in The Spirit of Democracy, Woodsfield, Ohio, December 16, 1980:
The Miltonsburg two-room school building (erected ca. 1893) is on TR 1001 (Campfire Road), near the junction with SR 145 in Miltonsburg. The Campfire one-room school was also located on TR 1001, in the southwest one-fourth of the southwest quarter of Malaga Township's section no. 4. That school closed in the spring of 1930 with Elizabeth (Moore) Thomas, of Jerusalem, as the last to teach there. The Campfire School site is now under the waters of Monroe Lake.
Until 1921, pupils in grades one to four occupied one room of the Miltonsburg school building and the other was used by those in grades five to eight. From then until the end of the 1928-29 term, one room was used for a three-year high school and the other for the first eight grades. Beginning in the fall of 1929, the high school students were taken by bus to Woodsfield. Dedication exercises for the present Woodsfield High School building were held July 26, 1917. Prior to that, Woodsfield high school students attended classes in the upper story of the three-story brick school house on North Paul Street, erected in 1896.
After 1929, the eight grades at Miltonsburg school used the two rooms until 1942, when the enrollments lessened and just one room was used from then until the school was closed in the spring of 1957. The pupils now attend school at Woodsfield Elementary (building erected in 1953) and Woodsfield High School. The Miltonsburg school building is now owned by Mrs. Lou Stillion. Teachers who taught at the school include: Edward Holland, Paul Wiley, Thomas Latta, Kathryn Riemenschneider, Laura Riesbeck, Leo Reischman, Harlan Fogle, Bethel Scarborough, Germaine Haren, Laura Pfalzgraf, Violet Scarborough, Eleanor Christman, Herman Rubel, Mabel Harper, Guy Brown, John Harper, Arthur Willison, Hal Tanner, Edgar Shreve, Ophelia Mason, Mack Dougherty, Amos Copeland, Kathryn Horton, Helma Christman, Marie Straight, Dorothy Pennell, Harold Christman and Agnes Norris. Helma (Stephen) Christman was the last to teach at Miltonsburg. Mr. Harold P. Christman and Helma compiled this list of teachers.
The Miltonsburg School
The 1869 Noll Atlas shows a school building in Miltonsburg in the approximate location of Lot 10, which was privately owned until about 1860, when it probably was purchased by the Board of Education. Although the Land Ordinance of 1785 stated that Section 16 in each township was to be reserved by future states in the Northwest Territory, Ohio legislation authorizing County Commissioners to levy a tax for funding schools was not passed until 1825, and not until 1847 were Boards of Education authorized to hire and pay teachers. Monroe County and other parts of southeastern Ohio were slow to accept the idea of common schools supported by public funds even though the early settlers apparently gave education a high priority and supported subscription schools as early as 1815. It is likely that public ownership of Lot 10 marked the beginning of the public school movement in Monroe County; however, a small private school building on Lot 10 may have been replaced by the two-room building that was constructed in the 1890s.
In the 1890's a school building with two rooms and a vestibule was built on Outlot 10. It is possible that a smaller, one-room building was replaced by this structure which, from 1921 to 1929, supported both a grammar school and a three-year high school. Between 1925 and 1942 the eight grades were divided into two rooms and from 1942 until it closed in 1958 it operated as a one-room school. In 1869 there were eight schools in Malaga Township and by about 1900 there were approximately 165 schools in Monroe County.
Richard Riemenschneider attended Miltonsburg High School in about 1928. Although his home was near Malaga he was the only one who could operate the family car and it fell upon him to drive his sister, who was the Miltonsburg Elementary School teacher. One of his favorite memories of the year he spent in Miltonsburg High School was attending a box social where he outbid a fellow student (Robert Block) for a pie baked by Evelyn Young who later became his wife. In telling the story he admitted that he later walked her home, and kissed her good night. (Evelyn lived with her parents Edward and Mary (Mamie) Young at Lot 11.)
Outlot 10 Owners
(Partial List)
1846 Jefferson Conley
1847 Jefferson Conley
1847 Jefferson Conley
1849 John Addis
1855 Charles Keller
1860 Peter Dorr
1865 Jacob Walter
1895 Board of Education
1899 Board of Education
1905 Board of Education
1910 Board of Education
1915 Board of Education
1920 Board of Education
1925 Board of Education