Lot 15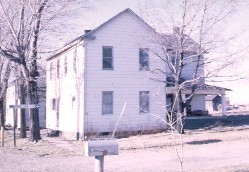 Tax records indicate that Jacob Dorr built a house ($40) on this lot in 1846 and that in 1849 he built a frame house ($345). It is tempting to assume that the first was a log house. It was fairly common practice to keep the log house as a barn or outbuilding rather than to immediately replace it with a new, frame house. This is probably the house that exists in a remodeled state on Lot 15 in 2007.
John Jacob Dorr
See Miltonsburg Religious Life for John Jacob Dorr's role in the founding and early years of the Miltonsburg Catholic Church.
Charles Phillips Dorr
The son of John Jacob Dorr, was born in Miltonsburg August 12, 1852 and moved with his parents to Woodsfield, Ohio in 1856. After teaching school in Ohio and West Virginia Charles Philips was elected to the United States Congress as a representative from West Virginia. For a brief biographical sketch of Dorr, see the "Biographical Directory of the United States Congress ":http://bioguide.congress.gov/scripts/biodisplay.pl?index=D000436.
Jane Hardesty
Jane Hardesty and her husband, who was probably a cousin of Alex Hardesty (Lot 21), had three children: John; Sam, who was a barber but not in Miltonsburg; and Jewel, who married George Ketterer. Paul Young, Sr. recalled John driving a horse-driven buggy from Wheeling when he came to visit. Hulda Landefeld Young (Lot 11 and 44) recalled that "Jane Hardesty used to bake the best oatmeal cookies."
Lot 15 Owners
(Partial List)
1835 Christian Yockey
1836 David Pearson
1837 David Pearson
1844 Ohio State
1845 Ohio State
1846 John Jacob Dorr
1847 John Jacob Dorr
1848 John Jacob Dorr
1849 John Jacob Dorr
1850 John Jacob Dorr
1855 John Jacob Dorr
1860 Michael Luly
1866 Charles Fox
1870 Lawrence Walter
1875 David Couch?
1880 August Alter?
1885 August Alter?
1890 August Alter?
1895 Jane Hardesty
1899 Jane Hardesty
1905 Jane Hardesty
1910 Jane Hardesty
1915 Jane Hardesty
1920 Jane Hardesty
1925 Jane Hardesty
1930 German Lutheran Church
1935 Florence M Schmitt
1940 Florence M Schmitt
1945 Ida L Steed et al
1950 Ida L Steed et al