Lot 10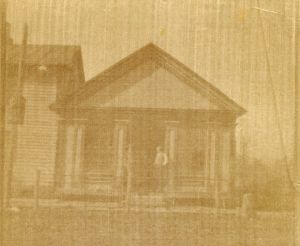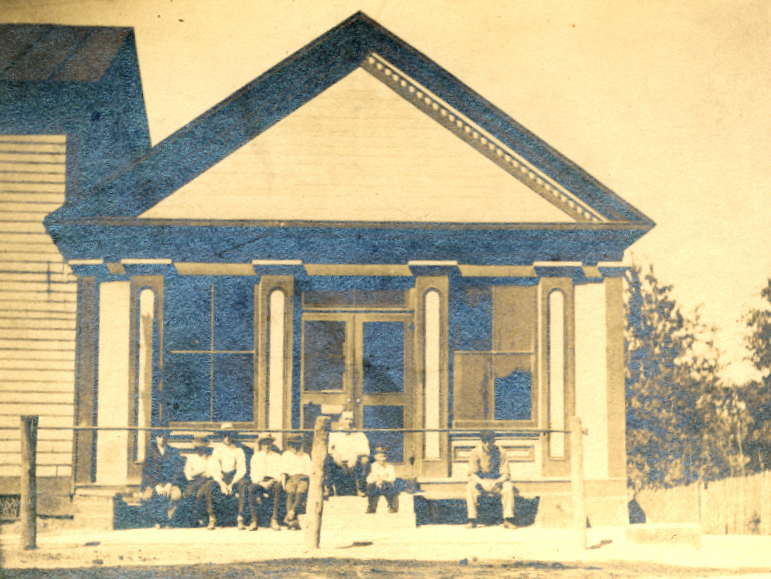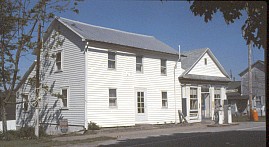 Tax records indicate that a frame house ($232) was constructed on Lot 10 by Nicholas Stout in 1849 and that a substantial improvement ($682) occurred around 1870 when the property was owned by the National Stove Company. This suggests that the store which still exists (in a much altered state) in 2007 was built adjacent to the house around 1870.
Individuals who operated (but not necessarily owned) this store include Gramlich and Eberly (c1880-1915), Edward Young (c1910-1915), Vance F. Slusher (c1920-1930), Charles and Alma Hinderlong (c1935-1945), and Roman Reischman.
Oral History
Around 1910 when Bill McAndrews lived at Lot 11, across the street from this store, his brother, Bart McAndrews, had a pool room in Woodsfield. It is possible that Bart or Bill opened a pool room in this store about 1911 and that it was operated by Louis Claus (Lot 14).
It is also likely that this pool room was connected to the Red Onion Saloon, which oral history indicates was operated by Louis Claus about this time.
Adolf and Emma (Gehring) Claus and their son Louis Claus were living in the house next to the store at this time (c1910). The Edward Young family (Lot 11 and Lot 45b), who had been living in Ashland, Ohio, where Edward worked as a driller, moved in temporarily with Adolf, Emma, and Louis. This family, which had fallen on hard times, included Edward, his wife Mary (Mamie) and their children Ada, Lillian, Paul, Lewis, and Evelyn.
Apparently about the same time another member of the family who was having difficulty also lived temporarily in this house: Jesse (Claus) Timothy, Mamie Young's sister, and her children, William, Frank, Miriam, and John. Jessie and her family had come to Miltonsburg from Follensbee, West Virginia, where they had lived when her husband, Jack Timothy, was imprisoned for killing a Chinese laundryman during an argument that included heavy drinking.
We include this particular slice of our family history only to give a brief insight into the lives of people living in Miltonsburg and to help explain how names often appear in census records but are not listed on the tax records as property owners. Apparently Gramlich and Eberly still owned the building but were renting it to Edward Young at this time. It is not clear that Adolf Claus and all of his family were living in this house at the same time; however, it is likely that they were and also likely that this was a relatively common situation, especially in the nineteenth and early twentieth centuries.
Some time before 1920 Vance Slusher bought and began to operate this store and, about the same time Edward Young and family bought the house on Lot 11 from Bill McAndrews and moved across the street. Sometime later Jesse and her family moved to Chester, West Virginia.
Lot 10 Owners
(Partial List)
1835 George Shell, Jr.
1836 George Shell, Jr.
1837 Daniel Ott
1844 Nicholas Stout
1845 Nicholas Stout
1846 Nicholas Stout
1847 Nicholas Stout
1848 Nicholas Stout
1849 Nicholas Stout
1850 Gotlieb Blocker (Blocher)
1855 Gotlieb Blocker
1860 John Mantz
1866 Phillip Wengert
1870 National Stove Co
1875 National Stove Co
1880 Gramlich and Eberly
1885 Gramlich and Eberly
1890 Gramlich and Eberly
1895 Gramlich and Eberly
1899 Gramlich and Eberly
1905 Gramlich and Eberly
1910 G. W. and E. W. Eberly
1915 G. W. and E. W. Eberly
1920 Vance F. Slusher
1925 Vance F. Slusher
1930 Vance F. Slusher
1935 Alma Hinderlong
1940 Alma Hinderlong
1945 Alma Hinderlong
1950 Roman Reischman