Lot 26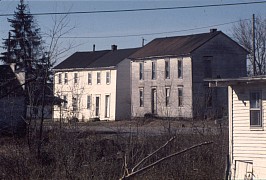 Tax records indicate that Henry Menkel built this house about 1855 and it remained in the Menkel family until about 1935. It still exists in 2007.
A page on the RootsWeb website gives information about Menkel family members with a connection to Miltonsburg.
Henry Menkel
Johann Heinrich Christopher (Henry) Menkel was born January 31, 1823 in Landau Principality of Waldeck, Prussia and died July 29, 1889 in Miltonsburg. He was buried in the Abandoned Cemetery (Free Cemetery) in Miltonsburg. Henry immigrated to America in 1846 with his brother Heinrich Ludwig and his sister Mary Elisabeth. He was naturalized on October 3, 1859 in Monroe County. Henry Menkel was a cabinet maker. His father was Johann Otto Menkel, born December 7,1770 in Landau, Principality of Waldeck, Prussia and his mother was Marle Charlotte Wilhemine Friederike Bunte born September 12, 1788 in Landau, Principality of Waldeck, Prussia.
Henry's brother, Heinrich Ludwig Menkel, born July 28, 1825, and his sister Marie Elizabeth also emigrated to the United States. Ludwig was murdered between Clarington and Miltonsburg in 1846 while traveling from Wheeling to Miltonsburg to visit his brother in (?).
Henry Menkel's wife was Carolina Roos, born December 4, 1825 in Rumbach, Schenau, Germany. Carolina Roos' mother was Christine Magdalene Jacky (Yockey), born July 25, 1797 in Schonau RB. Henry and Carolina had nine children, all of whom were born in Miltonsburg:
Elisabetha, born July 16, 1849, died ?; Carolina married Jacob Roth and lived in Woodsfield.
Heinrich Louis, born August 29, 1851; died May 4, 1911. He married Ophilia Rhines and was a roofer and sheet metal worker in Scio, Ohio.
Juliana, born January 25, 1853 (died as a child)
Karl , born June 15, 1855; died July 29,1929. Charles was a cabinet maker who also made coffins. He never married and lived all of his life in the double house on Lot 26 with his brother Phillip and sisters Julia and Lucinda.
Friedrich , born December 30, 1857; died July 8, 1933. July 8, 1933. Phillip was a house painter.
L. born January 27, 1860; died November 25, 1933
Charlotte, born April 3, 1862; died August 16, 1927
Oliver, born February 27 1864; died January 31, 1927. William, who married Hattie Frank at age 40, learned the monument trade and lived in Miltonsburg. Church records state that he committed suicide; however, rumors at the time held that he was shot by his wife.
Edward Herman, born April 29, 1868; died March 15, 1922. He married Emma Steed and, after learning the monument business in Miltonsburg, opened a monument business with his younger brother, Theodore in Woodsfield. Later, Edward's son Clyde entered this business with him.
Theodore Franklin, born February 1870; died (?). He entered the monument business with Edward Herman.
Following is an excerpt from one of Henry's obituaries:
A sad loss to the village of Miltonsburg, Ohio, during the past week is the death of Mr. Henry Menkle, who had resided in that place for many years, and by living the life of an honest, upright and kind-hearted citizen, had won the admiration and respect of the entire town and vicinity. He died last Monday morning at 1 o'clock, of brain fever, after a short illness. Mr. Menkle was about 66 years of age, and had been a resident of Miltonsburg about forty years. He came to America from Landow, Germany, in 1844. Deceased leaves a wife, five sons, three daughters and many other friends to mourn his loss. To these the Gazette extends its sympathy. The funeral took place Tuesday afternoon and was conducted by the I.O.O.F., of which the deceased had been a member many years. The funeral is said to have been the largest witnessed in Miltonsburg for years, as hundreds of old friends for miles around were present.
Oral History
Hulda Landefeld Young recalled her Aunt Dorothy Landefeld Feiock telling her that she played cinch in this house with Julia and Lucinda Menkel.
Lot 26 Owners
(Partial List)
1846 Daniel Wollenweber
1847 Valentine Gates
1848 Valentine Gates
1849 Valentine Gates
1850 Valentine Gates
1855 Henry Menkel
1860 Henry Menkel
1870 Henry Menkel
1875 Charles Menkel
1880 Henry Menkel
1885 Henry Menkel
1890 J. L. and L. C. Menkel
1895 J. L. and L. C. Menkel
1899 J. L. and L. C. Menkel
1905 J. L. and L. C. Menkel
1910 J. L. and L. C. Menkel
1915 J. L. and L. C. Menkel
1920 J. L. and L. C. Menkel
1925 J. L. and L. C. Menkel
1930 J. L. and L. C. Menkel
1935 J. L. and L. C. Menkel
1940 John A. and Fred H. Claus
1945 John A. and Fred H. Claus
1950 Racy and Velma G. Carpenter